PARTY RECIPE | KOBE BEEF SLIDERS WITH TARRAGON AIOLI & CARAMELIZED ONIONS
Makes 80 Sliders
BEVERAGE PAIRING
Wines: Red Priorat or Rioja from Spain, such as Alvaro Palacios Les Terasses, or R. Lopez Heredia Vina Tondonia. Or a California Syrah such as Big Basin or Radio Coteau. Beer: Adam by Hair of the Dog Brewing
Kobe beef sliders will take your burger bash to the next level. Kobe beef (aka Wagyu) is from a breed of cow specially raised to increase its percentage of fat marbling to consistently high levels. More marbling means more flavor and tenderness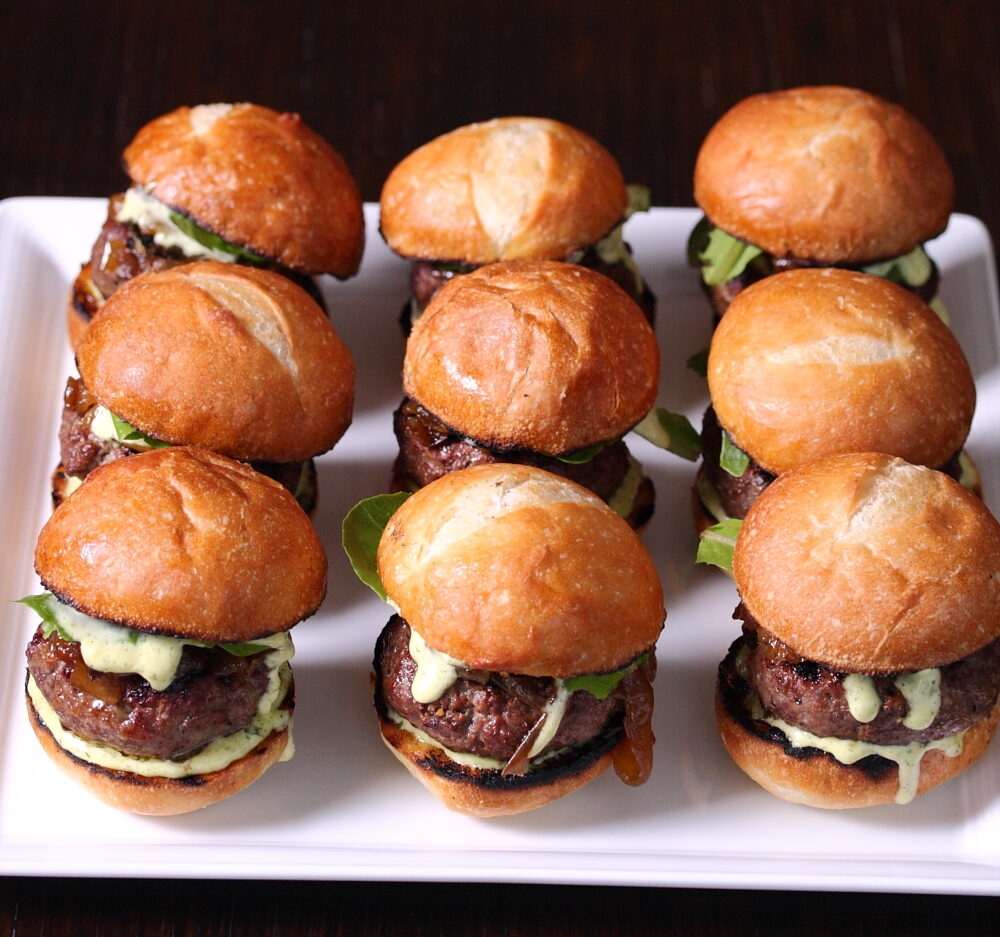 INGREDIENTS
1 case Kobe Beef Sliders


10 medium onions

1.5 cups fresh tarragon, minced

5 cups oil (use canola for mild flavor, olive oil for a stronger flavor and a 50/50 blend for a balanced flavor)

2/3 cup champagne vinegar (or Ritrovo Fig Vinegar)

3-5 cloves garlic

6 teaspoons salt

Olive Oil

80 small slider buns
DIRECTIONS
For the caramelized onions:
1
Slice onions into ¼ inch slices.
2
Heat a wide pan or wide Dutch oven to medium-high with enough olive oil to coat the bottom. Add the onions.
3
Turn the pan down to medium. Cook for 20-30 minutes before stirring. Essentially, you want to brown an entire layer of onions before disturbing them. Then, ideally, you want to try to flip the onions, rather than stir them. The objective is to keep even browning and even heat on the onions.
4
You'll need to flip/stir a few times more. You may need to add a couple tablespoons of water to release the fond and avoid burning. Within an hour, your onions should be perfectly browned.

1
Add egg yolks, garlic, vinegar & salt to food processor. Pulse until everything is chopped and the egg is frothy.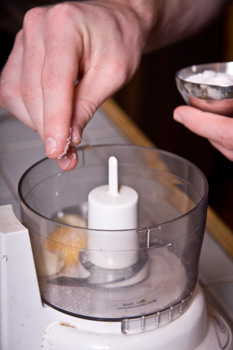 2
With food processor running, slowly add oil, until the mixture is thick.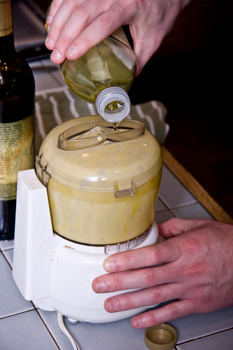 3
Add minced tarragon, and salt & pepper to taste.
To cook & assemble the sliders:
1
The easiest way is to simply remove the burgers from the box and grill them. If you are pan frying them, use a high-heat oil like grapeseed or peanut oil. Cook on high for a couple minutes on each side to get a nice sear.

2
Cut buns, brush with clarified butter or olive oil, and grill or toast to golden. Spread one side of each bun generously with aioli. Then, add the grilled burger and some caramelized onions.