Preserved Lemon Beurre Blanc
Makes 40 Servings
WINE PAIRING
White Burgundy or Oregon Chardonnay such as Etienne Sauzet, Deux Montille, Belle Pente, or Domaine Drouhin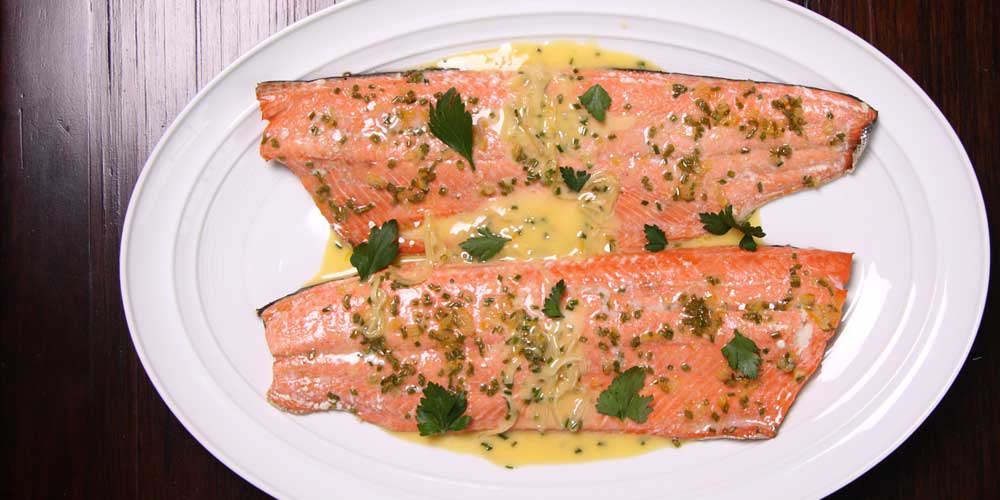 INGREDIENTS
Preserved Lemon Vinaigrette
½ cup fresh Chives, minced

½ of 1 Preserved Lemon, finely diced (about ¼ cup)

¼ cup Champagne Vinegar

¾ cup Olive Oil
Preserved Lemon Beurre Blanc

¾ cup sliced Shallots

½ bottle white wine

1 lb. butter

½ cup chives, minced

¼ cup preserved lemon
DIRECTIONS
Preserved Lemon Vinaigrette
Preserved Lemon Beurre Blanc
1
Add wine and shallots to large saucepan. Bring to simmer. Reduce volume by half.
2
Turn down heat to low-medium.
3
Add butter, constantly stirring or whisking until butter melts. Do not let the sauce reach a simmer! It will break if it gets too hot. Juggle the pan off and on the heat to keep it hot enough for the butter to melt and incorporate.
4
Add chives and preserved lemon. Add salt and pepper to taste.
5
Remove from the burner, but keep warm by leaving sauce in a warm but not hot place such as the back of the stove. It is now ready and waiting.
1
Remove salmon fillets from packaging and lay on baking sheets. Pour preserved lemon vinaigrette over top. Season with salt & pepper.
2
Transfer baking sheets to oven. Bake at 350 degrees for 8-10 minutes if fillets are ½ inch thick or less, and for 12-14 minutes if fillets are ½ to 1 inches in thickness.
Transfer salmon fillets to large platter. Add beurre blanc to your liking. Garnish with minced chives or parsley.