Huckleberry Creme Puree with Vanilla Crème Fraiche & Tellicherry Pepper Syrup
Makes at least 50 Servings
WINE PAIRING
Moscato D'asti, such as La Spinetta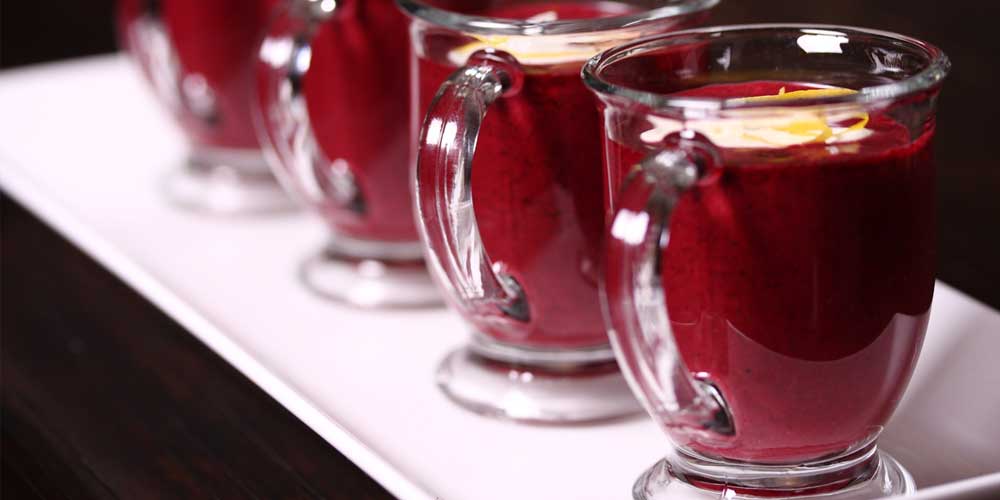 DIRECTIONS
1
Add 5 lbs. huckleberries, 5 cups sugar and 2 quarts heavy cream to a pan. Bring to a simmer. Taste it. If it isn't sweet enough add some sugar and return to simmer. If it is sweet enough, turn off the heat immediately.
2
Let cool to room temperature.
3
Puree in a blender or food processor.
4
Strain through a fine mesh strainer (optional, depending on the desired texture).
5
Adjust for seasoning with lemon and a pinch of salt.
1
Add 2 cups sugar and 2 cups water to a saucepan. Bring to a simmer.
1
Cut vanilla beans lengthwise and scrape seeds from the pod. Add seeds and 2 tsp. sugar to crème fraiche.
1
Use espresso cups or large shot glasses.
3
Add a dollop of crème fraiche.
4
Drizzle Tellicherry syrup over the crème fraiche. You can also garnish with lemon zest.