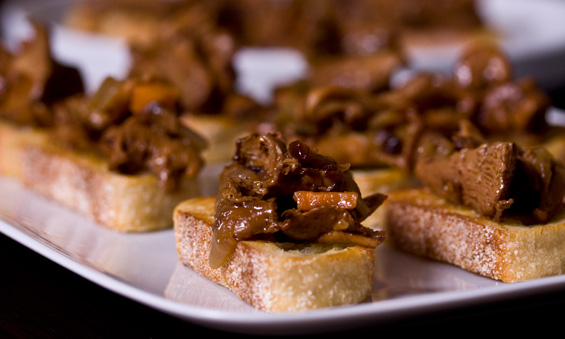 Marinated Wild Mushroom Canapes
Makes about 50 Servings
2 lbs. wild mushrooms (chanterelles, hedghogs, porcini, black trumpets or a mix)
1 leek, thinly sliced
½ yellow onion, thinly sliced
1 small carrot, thinly sliced
½ stalk celery, thinly sliced
1 clove garlic, minced
1 bay leaf
1 teaspoon ground coriander (or 2 tsp. whole)
3 tablespoons sherry vinegar or Ritrovo Black Currant Vinegar
1 sprig fresh thyme, whole
3 tbsp parsley, chopped
1/3 cup chicken stock
2 baguettes, sliced crosswise into ½ inch-thick rounds
Salt & Pepper to taste
1/3 cup Extra Virgin Olive Oil

1. Clean mushrooms and chop in ¾ inch pieces.
2. Add mushrooms to a large pan, heated to medium-high and coated with olive oil. Add teaspoon of salt. Saute for about 10 minutes or until most of the water released from the mushrooms has evaporated.


3. Remove mushrooms from the pan and set aside. Leave oil in the pan.
4. Add leek, carrot, celery and onion. Saute over medium heat until the vegetables are golden brown.


5. Add bay leaf, thyme, garlic and coriander (wrapped in sachet if coriander is whole). Return mushrooms to the pan. Stir and let sauté for three minutes.


6. Add vinegar and sauté for 1 minute.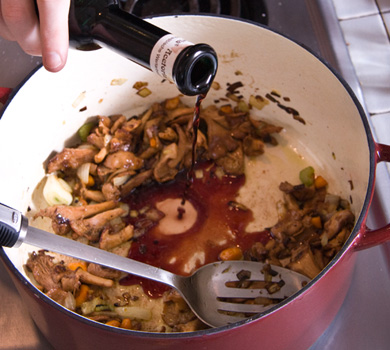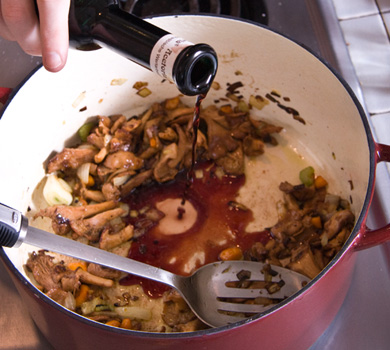 7. Add chicken stock. Bring to a simmer for 1 minute.
8. Turn off heat. Transfer to heat resistant bowl. Add 1/3 cup olive oil.
9. Let sit for 2 hours.
10. Adjust seasoning with salt and fresh lemon juice.
Toasts
1. Slice baguette crosswise into ½ inch thick slices.
2. Lightly brush slices on both sides with olive oil. Season with salt.
3. Lay out on a sheet pan. Bake at 350 degrees, until golden, about 8 minutes per side.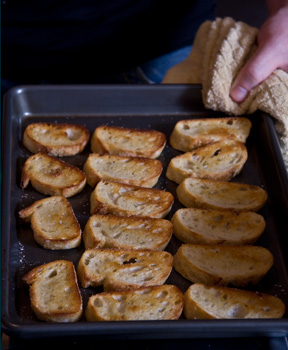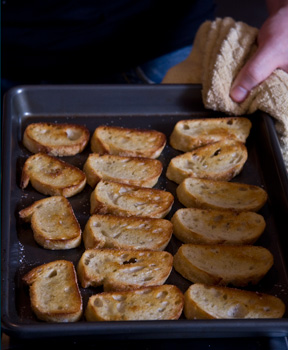 Presentation
Lay toasts out on a plate and, using a spoon, place marinated mushrooms on the toasts. Serve and Eat.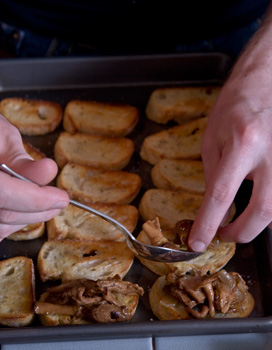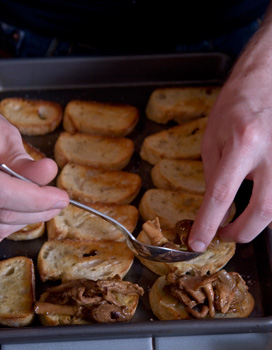 Wine Pairing: Pinot Noir from Burgundy or the Russian River.
Beer Pairing: Amber Ale

Other Party-sized Recipes:
Farro Salad with Pancetta and Root Vegetables
Sockeye Salmon Fillets with Preserved Lemon Beurre Blanc
Kobe Beef Sliders with Tarragon Aioli & Caramelized Onions
Huckleberry Creme Puree Dessert
View chanterelle mushroom recipes, morel mushroom recipes and other mushroom recipes.