Farro Salad with Pancetta and Root Vegetables
WINE PAIRING
Poulsard from Jura from Stephane Tissot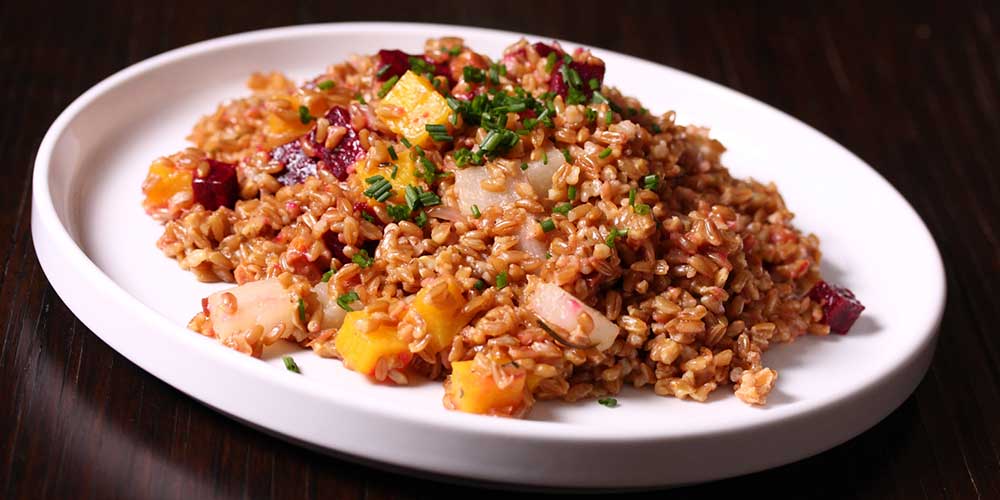 INGREDIENTS
3 lbs. farro berries

½ lb. pancetta, cut in ¼ inch cubes

2 onions, quartered

2 stalks celery, 1 inch chop

2 carrots, 1 inch chop

2 sprigs fresh rosemary
2 sprigs fresh thyme

4 beets

3 turnips, 3" diameter or less (or, use 2 larger turnips)

12 cups chicken stock
DIRECTIONS
1
Trim & Clean the beets & turnips. Toss in olive oil, salt & pepper to taste. Wrap individually in aluminum foil. If the turnip is more than 3 inches in diameter, cut in half before wrapping.
2
Place wrapped beets & turnips on a baking tray and bake at 375 degrees for 40 minutes.
3
While the beets and turnips are roasting, add olive oil to a pan or dutch oven over medium heat. Add pancetta. Saute for about 15 minutes or until browned and crispy.
4
Add farro and stir to coat in oil.
5
Add onions, carrots, celery, rosemary, thyme. Saute for 4 or 5 minutes.
6
Add chicken stock. Simmer until farro is tender, about 20 – 30 minutes.
7
Remove carrots, celery, onion, rosemary, thyme.
8
Add a little olive oil and stock if needed and adjust salt & pepper to taste.
9
When beets and turnips are finished roasting, cut them to ½ inch cube. Then, add to the farro and stir to incorporate.
10
Serve in a wide bowl and garnish with fresh herbs.