Believe it or not, there are wrong ways, and the best way to cook bulk dried beans.  Below is an easy and excellent technique.
Soaking and Cooking Dry Beans
1. Rinse the dry beans.
2. Cover with 2x cold water. Cover and put in fridge for at least 8 hours, but no longer than 24 hours.
3. Rinse again.
4. Put in pot with cold water. Or, for more flavor, use a mixture of 25% cold stock and 75% cold water with a bouquet garni.


5. Slowly bring to a low simmer.  Simmer gently for 45 minutes, or until beans are tender.
6. Strain.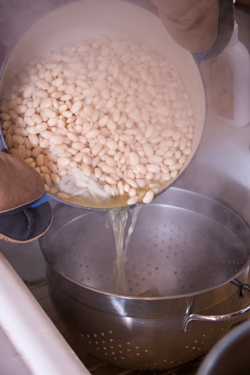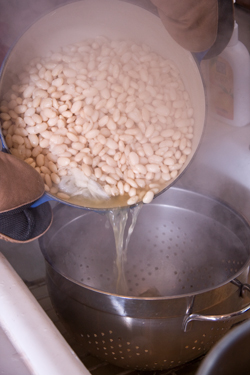 Check out our Cassoulet recipe and our Sausage, Escarole, and White Bean soup recipe for suggestions for how to pair beans with our game sausage.
___________
Browse More:
Bean & Lentil Recipes
Basic Culinary Techniques