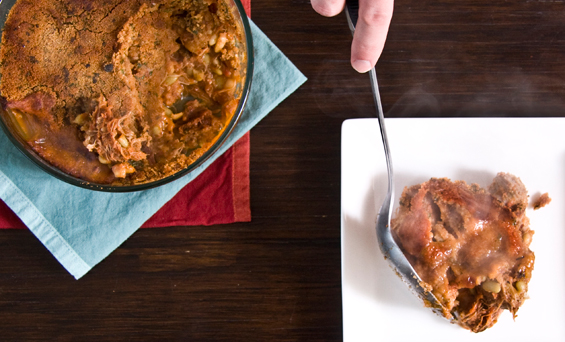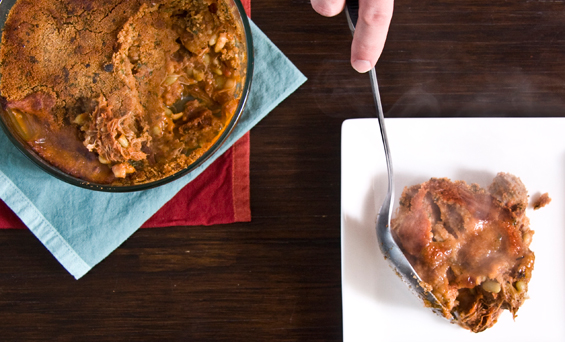 This is a version of this classic French dish that has been adapted for home chefs. A traditional cassoulet is a 2-day process, because you have to confit the duck legs, etc. This version still has plenty of steps, but you can do it at home in about four hours. The result is a rich, delicious comfort food that's more than worth all that work.
Ingredients
1.5 lbs. dried Flageolet beans (substitute: European soldier beans, great northern beans or other white bean)
12 oz. Wild boar sausage (or substitute).
12 oz. Duck sausage (or substitute).
1.75 lbs. duck confit legs (including bones).
8 cups water
2 cups chicken stock (or beef for a darker, richer cassoulet)
1 tablespoon tomato paste
½ cup chopped fresh parsley
3 cups breadcrumbs
2 cups of chopped onions
6 tablespoons minced garlic
1 bay leaf
½ tablespoon Tellicherry peppercorns
3 whole cloves
5 parsley stems
3 sprigs fresh thyme
28 oz. crushed tomatoes
Leek leaf or cheesecloth for bouquet garni
Remove duck leg meat from the bone. Reserve bones for use in boiling the beans.
Make a Bouquet Garni
Combine 1 bay leaf, ½ tablespoon peppercorns, 3 whole cloves, 5 parsley stems and 3 sprigs of thyme. Wrap in cheesecloth or a leek leaf and tie off with butcher's twine.


Cook the Beans
1. Rinse beans. Cover and put in fridge in water for at least 8 hours, but no longer than 24 hours. Rinse beans once more after they have been soaked.


2. Make cooking liquid for the beans. Use 2 cups stock and 8 cups water. Add to this tomato paste, chopped onions, 4 tablespoons garlic, a bouquet garni of 1 bay leaf, ½ tablespoon peppercorns, 3 whole cloves, 5 parsley stems and 3 sprigs of thyme. Also add bones from the finished duck confit.


3. Get to a rolling boil and boil the liquid for about 2 minutes to incorporate all ingredients.
4. Add soaked flageolet beans and bring to a simmer. Simmer for about 45 minutes or until the beans are tender.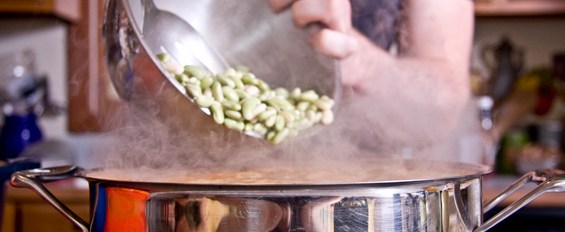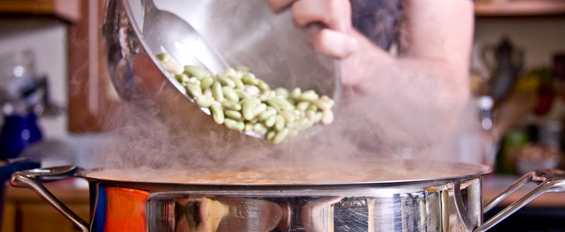 5. Once tender, add the crushed tomatoes and continue simmering for about 15 minutes.


6. Drain beans and reserve liquid (to be reduced).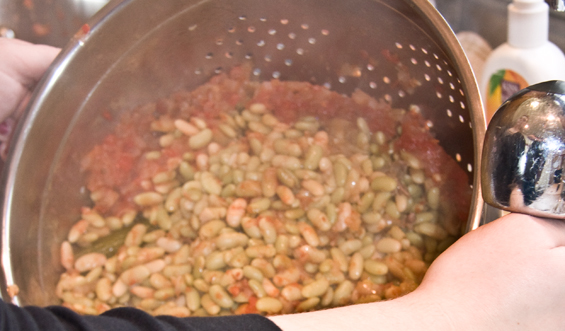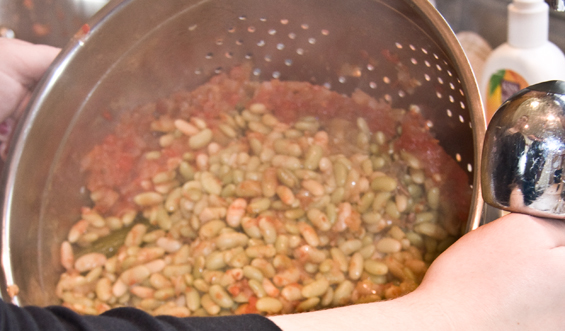 7. Remove bones and boquet garni from the beans.
Cook the Duck Confit
1. Put duck leg meat in a sauté pan or dutch oven. Add ¼ cup water and bring to a simmer. Basically, you want to evaporate the water off…this is a technique to strip the fat from the meat. Once the water evaporates, the fat starts cooking. And, that is what is going to brown the meat and crisp the skin. Depending on the size of your sauté pan, you may need to brown the duck meat in batches.


2. Once the meat is browned, set it aside. Continue cooking the skin until it is really crispy. Once crispy, set the skin aside. The skin will be used in the topping.




Cook the Sausage
1. Once the duck is finished browning, add inch thick slices of sausage to the remaining duck fat.
2. Brown the sausage, in batches if necessary.


3. Remove the sausage from pan and add to reserved crisped duck confit meat.


For the Breadcrumb topping
1. Add 2 tablespoons garlic to the pan and sauté until the aroma is released.


2. Add breadcrumbs and stir as breadcrumbs toast until lightly golden.


3. Remove breadcrumbs from heat. Add to the breadcrumbs the crisped duck skin, ½ cup chopped parsley, salt and pepper to taste.


Reduce the braising liquid
If the braising liquid is thin, reduce it until it can coat the back of a spoon (this stage is called napper in French cuisine). This is not always necessary. To reduce the liquid, simply bring to a simmer and allow liquid to slowly evaporate.


Assembly
1. Add the reduced braising liquid to the beans, sausage and duck meat. Mix, taste, and adjust seasoning.


2.Fill a baking dish 2/3rds of the way with this mixture.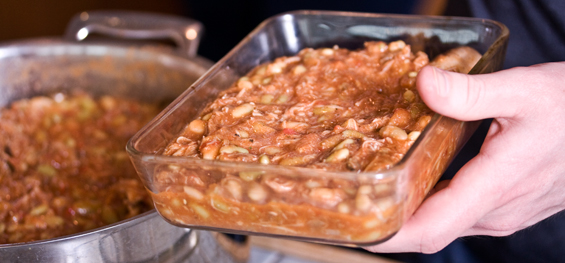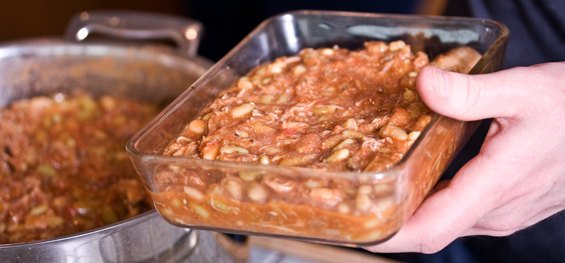 3. Top with ¼ inch of of the breadcrumb topping.


4. Bake at 350 degrees to crisp the breadcrumbs and heat the cassoulet all the way through.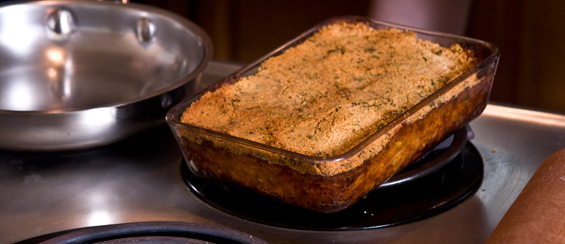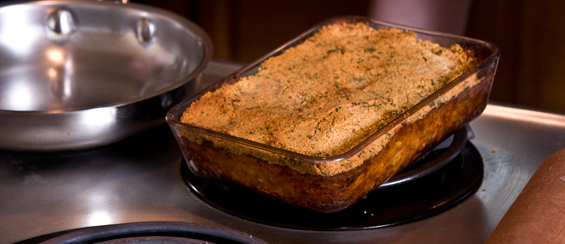 ___________
Browse More:
Sausage Recipes
Bean & Lentil Recipes
Duck Recipes
Game Bird Recipes
Wild Boar Recipes