Sausage, Escarole & White Bean Soup
This is a very hearty, entrée-style soup that's perfect for warming up on a cold day.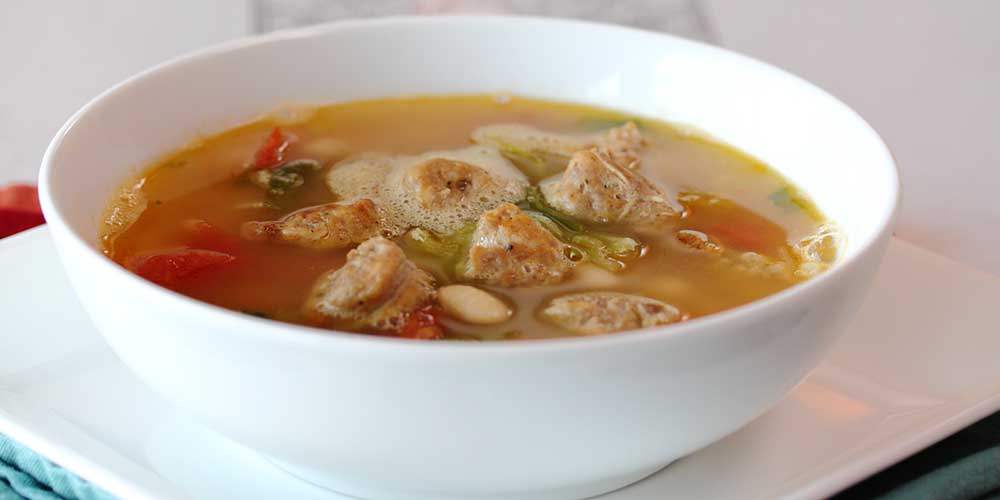 DIRECTIONS
1
Rinse
beans
. Put in container with fresh water, cover and put in your fridge for at least 8 hours, but no longer than 24 hours. Rinse beans once more after they have been soaked.
2
To a pot, add the beans, cold water to cover by 2 inches and a
bouquet garni
of 1 bay leaf, ½ tablespoon peppercorn, 3 whole cloves, 5 parsley stems and 3 sprigs of thyme.
3
Bring to a simmer. Simmer for about 45 minutes or until the beans are tender.
4
Drain beans and discard the bouquet garni.
5
Bring a sauté pan to medium heat. Add two tablespoons of olive oil. Brown the sausage on all sides. Remove the sausage from pan.
6
Add the minced garlic and red pepper flakes to the pan. Saute until the aroma is released.
7
Add chopped escarole. Saute until wilted.
8
Add beans, browned
game sausage
, stock and 1 quart water.
10
Add whole parsley leaves, crushed (and drained) tomatoes and cheese.
11
Add salt and pepper to taste.
12
Serve. Garnish with a drizzle of a nice extra virgin olive oil and some more grated cheese.