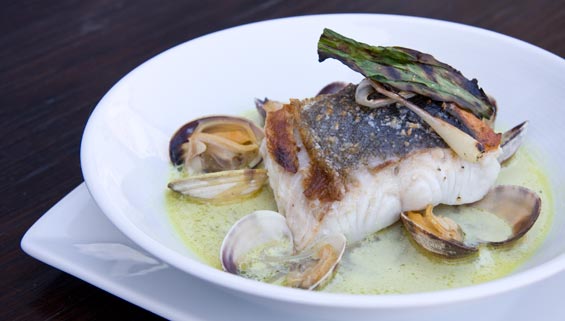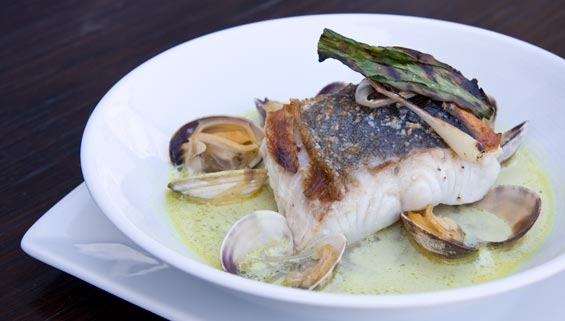 You know that beautiful piece of fish you always order in restaurants, the one with the nice crispy skin that you can never seem to replicate at home?  It has probably been pan seared.  The key to achieving crispy fish skin is to use very high heat, and to serve the fish as soon as possible after it is finished.
Like pan-roasting chicken, this restaurant classic is a hybrid cooking technique that uses the stove top for the initial sear and the oven to finish cooking the fish through.
Here's one of the best methods to cook restaurant quality fish at home:

Pan Searing Fish
(demonstrated using black cod fillets)
1.  Cut your fish fillet into steaks (the industry standard is 6 oz of fish per entrée portion).
2.  Pull out any pin bones using needle nose pliers. Wash the pliers in a cup of water after each bone to make sure you're not bringing the bones back to the fish. 
3.  Salt the fish liberally. 
4.  In frying or sauté pan, get a high smoke point oil (such as peanut, grapeseed or vegetable … no extra virgin olive oil or Camelina oil please!) very hot.  Be careful not to get it so hot that it begins to smoke though.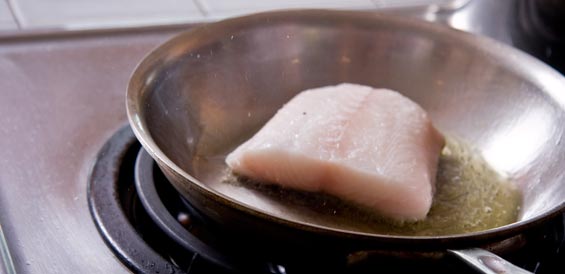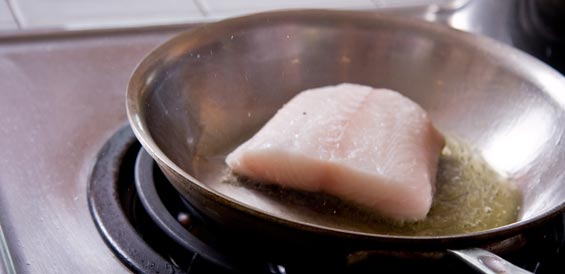 5.  Gently place the fish in the pan, skin side down.  Be careful to lay the fish in the pan starting with the edge facing you, so that any splashing hot oil caused by the rest of the fish entering the pan will travel away from you. 
6.  Once the skin has crisped, move the entire pan to a 400 degree oven (make sure you're using a pan with a handle that can withstand this heat (metal is best). 
7.  When the fish has become opaque, remove it from the oven.


8.  Gently flip your fish (again, be careful of splashing oil!) and briefly sear the other side, just to give it some color, and serve.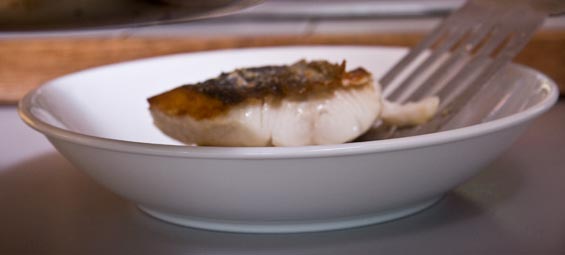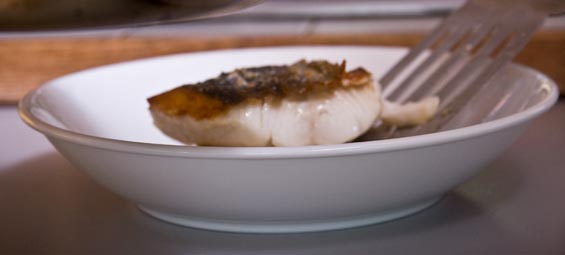 Warning: Don't forget that the pan's handle is now rocket hot!  Make sure everyone in your kitchen knows it too so somebody doesn't grab what they think is a cool pan handle and burn themselves.  We recommend using the professional chef's symbol for "hot pan, be careful!" which is a hot pad or towel draped over the handle (just make sure it doesn't touch your heating elements or gas flame).
This method will work for almost any fish, and works particularly well with black cod, rainbow trout, wild salmon (we recommend King salmon or Pink salmon fillets), or mahi mahi fillets.
Flat fish (such as Pacific halibut or dover sole) tend to have darker, more leathery skin.  Because of this, we recommend removing the fish skin prior to pan searing.  Obviously there won't be any crispy skin at the end, but the fish will still be delicious.
___________
Browse More:
Culinary Techniques
Fish Fillet Recipes
Seafood Recipes by Species