Makes 6 Servings
BEER PAIRING
Pilsner
There's nothing boring about this bean salad – the ramps and morel mushrooms bring some of mother nature's most amazing foraged flavors to what was once a humble side dish.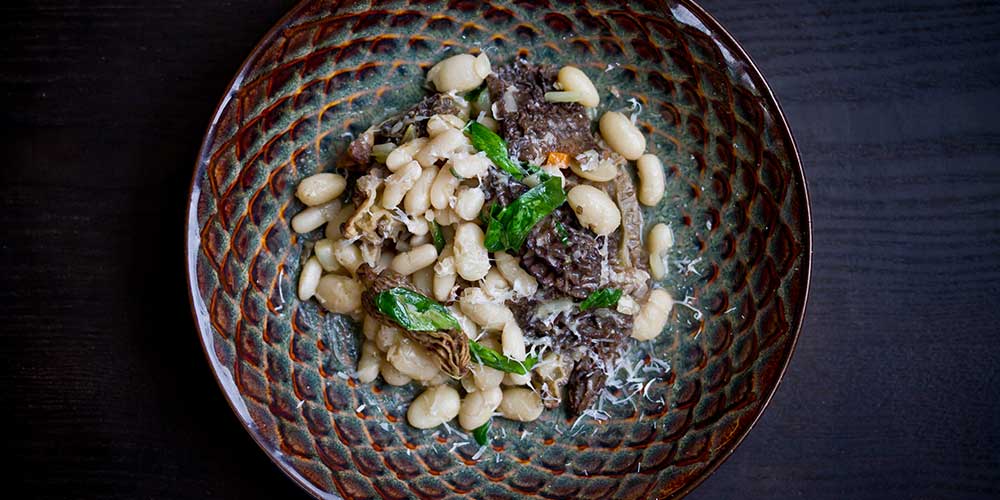 DIRECTIONS
1
Soak the beans overnight.
2
Move the beans to a pot in their soaking liquid (enough to cover by an inch of water). Add a teaspoon of salt and the bay leaf. Cook at a low simmer, gently stirring occasionally.
Note: if using multiple bean varieties, we recommend cooking them in separate pots (each with their own bay leaf) until each variety is tender for best texture.
3
After the beans have cooked for a while, add a pinch of additional salt. Add additional hot water as necessary to keep the beans submerged. Continue to simmer until tender.
4
Separate the ramp greens (tops) from the bottoms. Finely mince the bottoms, cut the greens chiffonade (into thin strips).
5
Melt the butter in a frying pan over medium heat.
6
Add the ramp bottoms and sweat (cook just below a saute, so they don't brown) until translucent.
7
While the ramps are cooking, briefly dunk the morels in cool water to remove any sand or grit.
8
Add the morels to the ramps in the pan & continue to cook until they are tender.
9
Add the cooked, drained beans. Cook until the beans are heated through, then add the ramp greens, champagne vinegar, salt & black pepper to taste.
10
Serve hot, cold, or at room temperature topped with the parmesan cheese.