Makes 4 Servings
WINE PAIRING
Chardonnay
Risotto without cheese? Yes…and thanks to the garlic-y, oniony flavor of wild ramps, you will love it.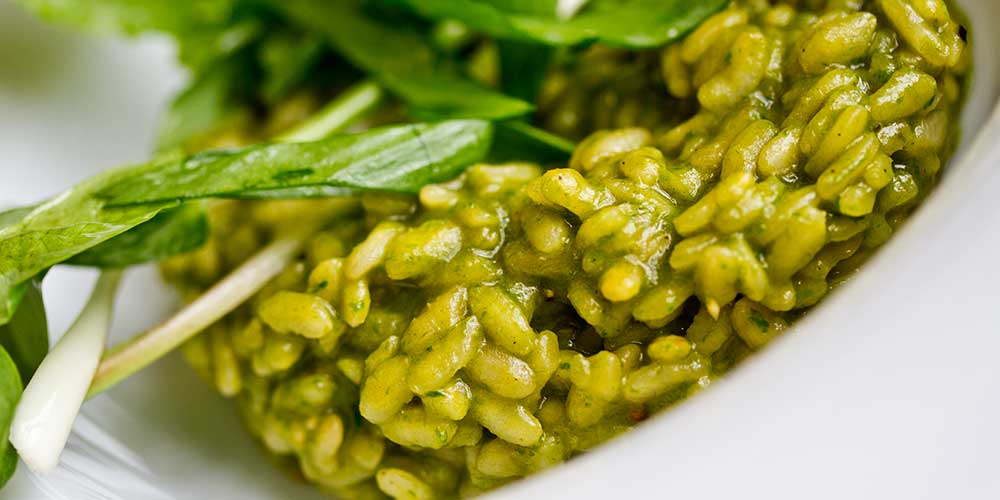 INGREDIENTS
4 tbsp + 3 tbsp Unsalted Butter

1 1/2 quarts Vegetable Stock (quantity can vary, so have extra on hand)

2 cups Vialone Nano Rice (could substitute other risotto rice, modifying stock quantity & cooking time)

½ cup White Wine

4 tbsp Ramp Puree Recipe

Zest of 1 Lemon
DIRECTIONS
1
In a pot, warm the veggie stock.
2
Melt 4 tablespoons of butter in a wide frying pan. Add the rice and
toast
it, stirring occasionally, until it's lightly browned and emits a nutty aroma.
3
Deglaze the pan with the white wine.
4
Add ladles of hot stock, stirring frequently…only adding more stock as the last infusion is absorbed (see
how to make risotto
for the full technique).
5
Once the rice is tender, remove it for the heat and stir in the remaining 3 tablespoons of unsalted butter, lemon zest and the ramp puree. Add salt & pepper to taste.
6
Garnish with pea tendrils or ramp greens if desired & serve.