Here's the nuts and bolts of making risotto. This is not a risotto recipe per se, but rather a general tutorial that will allow you to improvise and tailor to your own tastes. Part one below, lays out the five general steps. Then, below is a list of embellishments that you might want to consider.
BASIC STEPS:
1. In a saucepan, add olive oil. Then, over medium heat, add a cup of diced onions and a couple minced cloves of garlic. Sweat the vegetables.

2. Add a cup or two of arborio rice or (even better) carnaroli rice, stirring frequently, until you can smell a nutty aroma and the risotto has been slightly browned.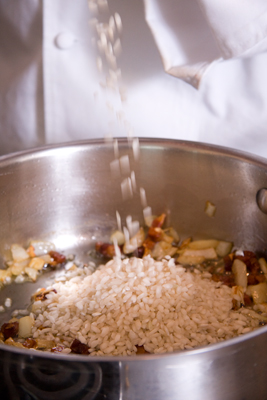 3. Deglaze with a cup of white wine and stir.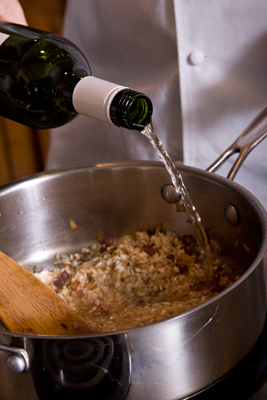 4. Once the wine is absorbed, begin adding chicken stock or vegetable stock in ½ cup increments, stirring frequently, until the risotto is tender.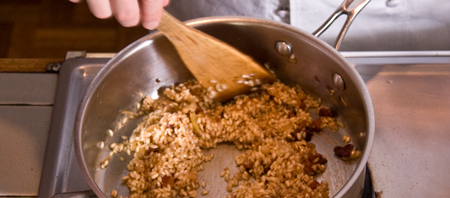 5. Add cream, cheese and/or fresh herbs of your choice at the very end.
RISOTTO EMBELLISHMENTS:
1. Pancetta, truffle, porcini risotto: Add pancetta before the onions. Brown the pancetta. Add fresh porcini mushrooms or reconstituted dried porcini mushrooms about ¾ way through the stock stage. (How to rehydrate dried mushrooms). Finish with truffle salt or truffle oil.
2. Butternut squash & blue cheese risotto: After you add wine, you can add cubed butternut squash and then add blue cheese (we recommend Point Reyes blue cheese)at the end.
3. Sweet pea risotto: Add fresh peas a couple minutes before the cheese. Use pecorino.
4. Mushroom risotto: Add pretty much any kind of fresh mushrooms toward the end of the stock stage. Finish with a salty cheese, such as grated parmesan or a tangy cheese like Valbreso feta, depending on your tastes.
5. Asparagus & Parmigiano Risotto: At the end, add blanched asparagus and some parmigiano reggiano.
___________
Browse More:
Risotto Recipes
Cheese Recipes
Mushroom Recipes
Truffle Recipes