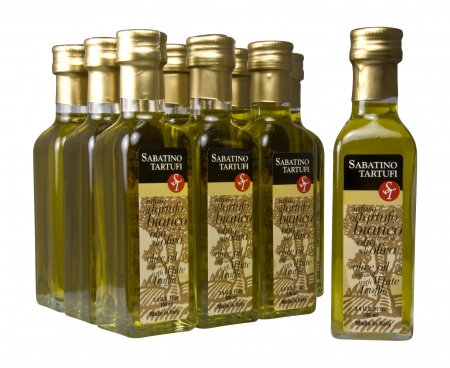 Truffle Oil by the Case!
It's December 8. Only 16 Shopping Days Left. If you're starting to get a bit overwhelmed with all the gifts you need to buy (for the neighbors, the housecleaner, your kid's teachers, coworkers… and the list goes on and ON) try knocking 12 gifts off your list at once.
MarxFoods.com now has Italian truffle oil available by the case. Including shipping, when you buy 12 bottles at once it works out to only $9.15 per bottle for black truffle oil and $10.05 per bottle of white truffle oil.
Anyone who appreciates good food will be THRILLED to receive a bottle of truffle oil. It should be used as finishing oil rather than a cooking oil (because it will loose its flavor when exposed to high heat). This blissful oil is incredible drizzled over pizza, pasta, risotto, Panini sandwiches, soups, bruschetta, meats, salads, popcorn and more!
Check out the other affordable food luxuries we're selling by the case.