The best way to remove skin from most fish fillets is to:
1) Lay the fillet on a cutting board, skin side down.
2) On the narrower tail end, make a cut between the skin and the flesh that is deep enough so that you can grab the skin with your other hand.
3) Put your knife at a 45 degree angle to the cutting board, grab the skin with your other hand, and simply hold the knife(almost as if you are scraping the skin) while you pull the skin with your other hand.
This technique, which is demonstrated below using a King salmon fillet, takes some practice and good knife skills, but it is the best method.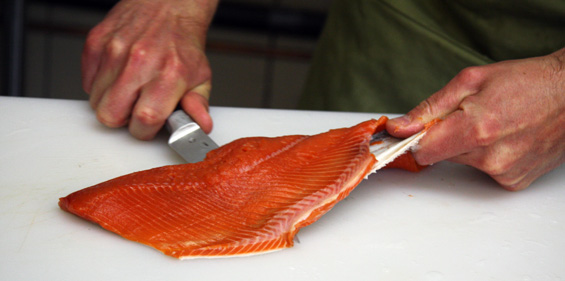 After commenting on Team O's blog about how I always butcher wild salmon when I try to remove the skin, Hillary e-mailed me with the following advice:
"Bring 1/2-inch of water to a slow boil in a shallow, wide frying pan. Place the salmon, skin side down, in the water for about 60 seconds. Carefully remove the salmon from the water and the skin will peel right off. The hot water will just barely start cooking the fish – not enough to affect the recipe. Gently rinse the fish and you're good to go!"
So if you're as challenged as I am at filleting fish, give this a go.   
___________
Browse More:
Seafood Tips & Techniques
Seafood Recipes