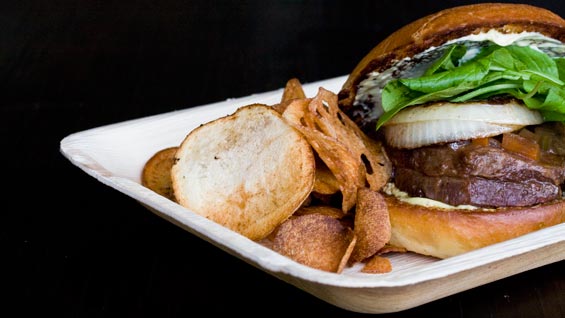 Braised Beef Sandwich
As delicious as roast beef sandwiches can be, braised beef sandwiches are better. Braising makes the beef tender, moist, and delicious, especially if you glaze it with the left over braising liquid (as we have here) just prior to serving. Far more than a simple pot roast sandwich, this combination of flavors results in a sandwich that is rich and comforting rather than heavy. Fresh arugula adds a peppery flavor, and earthy white truffle aioli takes the sandwich to a whole new level. (Regular mayo or aioli is a great, albeit less delicious, substitute).
Though braising meat just to make a sandwich may seem a little time consuming, keep in mind that it can easily be braised ahead of time, stored in the fridge, and then reheated using the glazing technique in step 12. It's also a fabulous sandwich, and well worth the effort.
We highly recommend serving this sandwich with homemade chips (mixed root vegetable chips recipe).
Beer Pairings: Rochefort Belgian Trappist Ale or Seattle Pike Brewing Kilt Lifter
Ingredients: (serves 6)
½ cup carrot, cut into ¼" cubes
½ cup celery, cut into ¼" cubes
1 cup onion, cut into ¼" cubes
1 whole onion
½ stick of unsalted butter (more if toasting brioche on the stove)
½ bunch of fresh thyme
2lbs grass fed beef eye of round
½ bottle of red wine (we recommend cabernet, Napa Valley would be ideal)
½ gallon low sodium beef stock
2 cups of fresh arugula
6 brioche buns
Portuguese sea salt & freshly ground Tellicherry pepper to taste
Olive oil
Plus:
White Truffle Aioli
Directions:
1. Preheat your oven to 350 degrees.
2. Heat oil in a deep pot or Dutch oven. Rub the eye of round with salt and pepper.
3. Add the eye of round to the hot oil and sear it on all sides to develop a flavorful brown crust.
4. Remove the eye of round from the pot and reserve. Drain off excess oil and fat.
5. Lightly brown the cubed carrot, celery, and onion.
6. Deglaze the fond on the bottom of the pan with red wine, and simmer until you reduce the volume of wine by half.
7. Return the eye of round to the pan. Add enough beef stock to come halfway up the side of the meat.
8. Cover the pan and move it to the oven to braise for 1 ½ hours.
9. Cut the whole onion into six thick slices. Top each slice with a pat of butter and thyme leaves. Roast in the oven on a roasting pan or cookie sheet until translucent.
10. Grill or toast the brioche buns. If toasting, we recommend melting 1/2tbsp of butter in a saucepan on the stove, and laying in the sliced brioche buns with the inside down. Toast them until golden brown.
11. Once it has finished braising, rest the eye of round for 5-10 minutes, then slice it into 1/4-1/2" thick slices.
12. Place the slices in a hot frying pan with some of the braising liquid, reducing it down to a glaze.
13. Spread some of the white truffle aioli on each brioche bun. Add two eye of round slices, a roasted onion slice, and arugula. Serve with root vegetable chips on the side.
___________
Browse More:
Roast Recipes
Beef Recipes