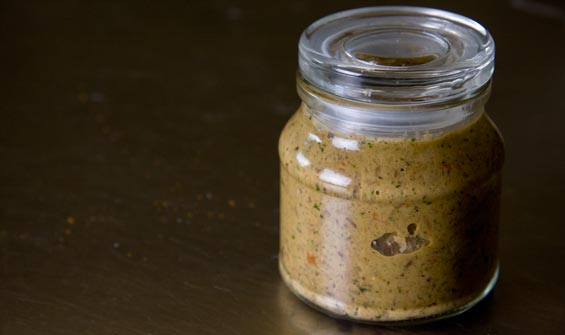 (note: our red curry didn't turn out red, probably because we didn't use enough chilies)
Once you've got this flavorful paste in your fridge waiting to go (it'll last for a month!), making delicious Thai red curry for dinner will be quick, easy, and just a few more ingredients away.
Ingredients
2 tbsp coriander seeds
2 tsp cumin seeds
1/2 cup fresh cilantro
2 tsp shrimp paste
2 tsp kosher salt
2 tsp caraway seeds
2 tsp tellicherry peppercorns
4 stalks of fresh lemongrass
40 dried Thai chilies
8 dried Japones chilies
4 large cloves of garlic
6 medium shallots
2 tbsp fresh ginger
Zest of 2 limes
1/2 tsp lemon zest
Peanut oil as needed 
How to Make Thai Red Curry Paste:
Rough chop the shallots and cilantro. Grate the ginger and zest the citrus fruit.
Trim any tough portions of the lemon grass and cut it into pieces manageable for your blender or food processor.
Reconstitute the dried chilies.  Remove their stems and seeds.
Toast the caraway, coriander, tellicherry peppercorns and cumin.
Combine all ingredients except peanut oil in a blender or food processor.
Slowly drizzle just enough oil into the running food processor that a paste is formed.
Package in a jar for up to a month in the fridge.
Makes 1 cup of curry paste, which will provide the base for about 4 batches of this Thai red curry recipe.  If somebody complains that your curry wasn't hot enough, try blending a few reconstituted ghost peppers into the next batch.
___________
Browse More:
Dried Chile Recipes & Techniques
Root & Rhizome Recipes