Reconstituting Dried Chilies
How to reconstitute dried chilies:
DIRECTIONS
1
Pour boiling water over dried chilies in a bowl (enough to cover). Press down with spoon to make them submerge.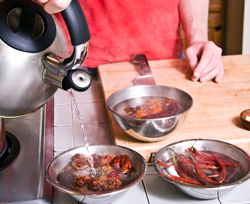 2
Soak your chilies for 15 minutes.

3
Discard water when done (do not use in recipes like you would water from
reconstituting dried mushrooms
). Some peppers plump up more than others when ready, so do not be alarmed if your chilies still have slightly papery skin.
4
Deseed peppers by removing tops and slitting down sides (you can leave the seeds in if you would like, but your chilies will be significantly hotter).