Slow-Roasted Wild Boar Shanks with Polenta, Gremolata & Boquerones Butter
Makes 4 Servings
WINE PAIRING
Nebbiolo or Sangiovese from Tuscany
This is a rustic Italian-style dish featuring pulled/shredded wild boar shank meat slow roasted in the oven and served atop mascarpone polenta. Boquerones compound butter and a fresh gremolata add a salty/astringent zing to the whole dish.
Slow roasting shank meat yields a delicious result that is tougher/chewier than braised shanks. The meat tightens up enough that it's hard to get off the bone easily with table utensils. Though we photographed (and tried to eat) the meat on the bone here, we recommend that you serve it already cut from the bone and shredded.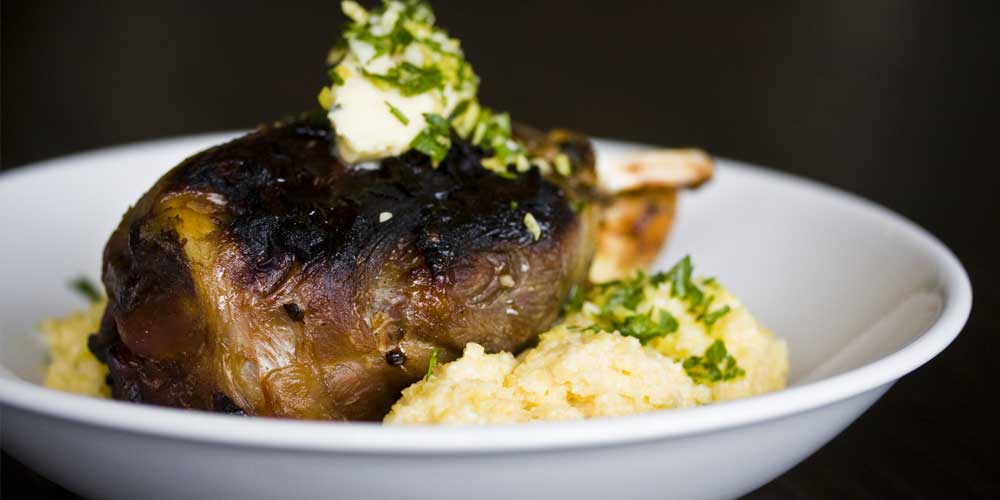 INGREDIENTS
2 stalks of Celery, roughly chopped

2 Carrots, roughly chopped

1 – 1½ Onions (depending on size), roughly chopped

3 Garlic Cloves, smashed w/ skin on

1 tbsp Butter

Peanut Oil

Extra Virgin Olive Oil
Polenta:

3 cups Chicken Stock

1 cup Polenta

½ cup Mascarpone Cheese

½ cup Heavy Cream

Salt & Pepper to taste
Boquerones Compound Butter:

5-6 tbsp Unsalted Butter

3 sprigs Fresh Thyme, minced

Salt to taste
DIRECTIONS
1
Brine the shanks overnight.
2
Preheat your oven to 325.
3
Get peanut oil hot in a pan or cast-iron skillet on medium-medium high heat.
4
Sear the shanks on all sides.
5
Remove the shanks from the pan, and add the mirepoix (onion, carrot, celery) and butter. Sweat the vegetables for a few minutes, until softened.
6
Return the shanks to the pan, on top of the vegetables, and add the garlic. Move the pan to the oven to roast for about 2 hours (until tender).
7
Mash the boquerones and thyme into the butter. Add salt to taste.
8
Mix together the lemon zest, parsley, and garlic to make the gremolata.
9
Cook the polenta following this
basic polenta recipe
. Stir in the mascarpone and cream. Taste for seasoning.
10
Using two forks, shred the wild boar meat off the shank bone.
11
Serve the polenta in a shallow bowl, topped with the wild boar shank meat.
Make a quenelle
from the boquerones butter, and put it on top of the shank meat. Finish the plate with gremolata and extra virgin olive oil.