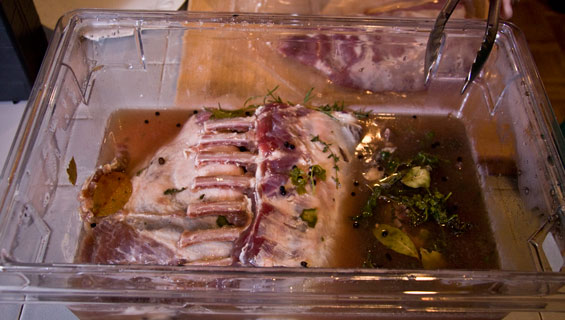 Brining is an easy technique that gives you a more moist finished dish while also imparting additional flavor.  It's a particularly good idea when working with pork, lean game meats like wild boar, and poultry.
How to Brine:
1.  Mix up a brining solution (see below for ratios).  Bring it to a boil.
2.  Cool the solution to at least room temperature.
3.  Submerge your meat or poultry in the solution in a coverable container.  If using a zip top bag, we recommend placing the bag in a bowl in case it leaks.
4.  Store the brining food on the lowest shelf in your refrigerator overnight.
5.  Remove the food from the brine, rinse off the surface, and cook it.  If using a recipe that does not normally call for brined poultry or meat, reduce the amount of salt in the recipe to account for the salt that has been absorbed by the meat.
Basic Brining Solution Ratio:
Your brining solution should contain 1/2 cup of salt for every 8 cups of water you use.
Of course, you can (and should) add other ingredients to your brining solution to impart more flavor.  Here's a recipe we like:
Example Brine Recipe: (makes 16 cups, feel free to halve or quarter)
¾ cup Honey
24 Bay Leaves
1 bunch of Fresh Thyme
1 bunch of Fresh Parsley
1 head of Garlic, cloves separated & crushed with the skin on
4 tbsp Black Peppercorns (Tellicherry Peppercorns)
1 cup Kosher Salt
16 cups of water
Directions:
1.  In a large pot, combine half the water with all the other ingredients.
2.  Bring the brine to a boil, and boil for one minute.
3.  Add the rest of the water (to dilute and cool the brine).  Let the brine cool completely before use.
Again, this is just an example.  The important constant is the salt & water ratio, beyond that you can use any combination of whole spices, fresh herbs, and other sweeteners you want.  We particularly recommend: fresh rosemary, tarragon, fresh sage, and brown sugar.
___________
Browse More:
Culinary Techniques
Meat Tips & Techniques
Wild Boar Recipes
Poultry Recipes