Grass-Fed Beef Steak Tacos
Makes 8 tacos
DRINK PAIRING
Negra Modelo
Grass-fed beef rubbed with earthy, savory spices blends into sweet slow-roasted tomatoes, creamy avocado and the toasted flour of the tortillas.  The result is a harmonious, intensely satisfying taco.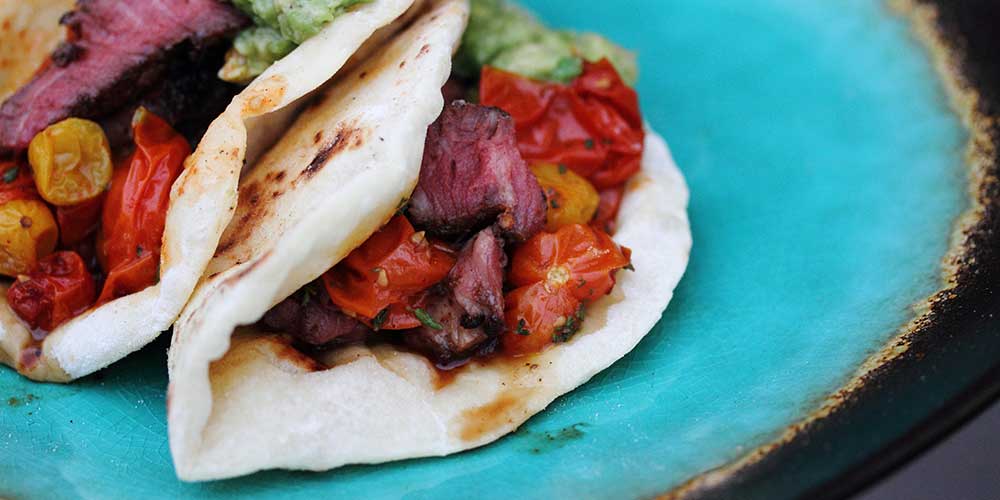 INGREDIENTS
Slow Roasted Tomatoes:

1 pint Cherry Tomatoes

1 pinch Smoked Paprika

1 tsp Fresh Thyme, chopped
Mexican Spice Rub:

1 pinch Cayenne Pepper

1/8 tsp Smoked Paprika

1/8 tsp Medium-Heat Chile Powder (store bought or homemade – how to make chile powder)

1/8 tsp Ground Coriander

1/8 tsp Ground Cumin

1/8 tsp Sweet Paprika

1 tsp Ground Dried Oregano
DIRECTIONS
1
Preheat your oven to 200 degrees.
2
Put the cherry tomatoes in a baking dish & roast for three hours.  Remove from the oven & reserve (turn off the oven).
3
Dry off the steak, rub with 1 tsp of salt & 1/2 tsp of pepper.  Mix together the rub ingredients & rub the steak with them.
4
Heat a cast iron pan over medium-medium high heat.  Add oil & when it's hot add the steak.
5
Cook the steak taking care not to let the spices burn. Once the steak has reached your desired level of doneness, let it rest (lightly covered with foil) for 10 minutes.
6
Toss the tomatoes with the smoked paprika & chopped thyme.
7
Remove the skin & pit from the avocado.  Mash it together with the lime juice & salt to taste.
8
Warm or cook your flour tortillas in a dry skillet.
9
Thinly slice the steak. Build your tacos with the tortillas, roasted tomatoes, beef and smashed avocado.  Serve.