Makes 6 Servings
BEVERAGE PAIRING
Scheurebe from Franken, Germany or a Hitachino Red Rice Ale from Japan
Central America and Asia collide with delicious results in these fusion tacos. The richness of the spiced beef is cut with quick-pickled daikon (a large, mild Asian radish), ikura, and fresh salsa verde for a surprisingly light twist on the classic street food.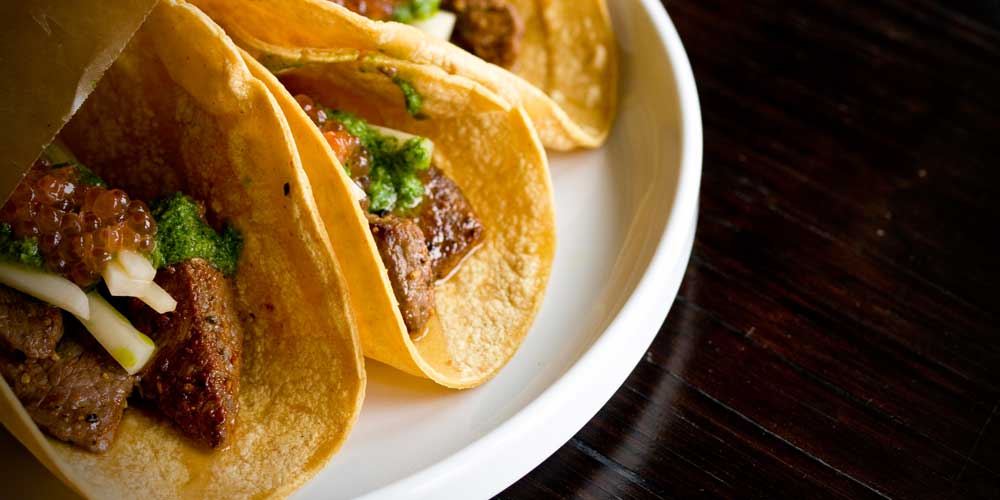 INGREDIENTS
BEEF FILLING INGREDIENTS:
2 1/4lb grassfed top sirloin (you could also use any tenderloin, ribeye, or flank steak)

1 tbsp porcini salt from the Ritrovo artisan salt sampler

1 tbsp smoked paprika

1 tbsp Shichimi Togarashi

18 corn tortillas

1 cup, 2 tbsp pink salmon ikura

Portuguese sea salt & Tellicherry pepper to taste
PICKLED DAIKON:

½ lb of daikon

1 cup apple cider or any other fine vinegar

1 tsp Tellicherry peppercorns

2 small bay leaves

1 tsp cardamom, green shells removed

1 tsp coriander
DIRECTIONS
1
Make the salsa verde (recipe below).
2
Peel the daikon and cut it into matchstick-sized strips
3
Heat the vinegar with the peppercorns, bay leaves, cardamom and coriander to a simmer in a saucepan.
4
Pour the vinegar (with the spices) over the daikon in a nonreactive bowl. Try to cover as much of the daikon as possible.
5
Cover the daikon and move it to the fridge to pickle for 1 hour minimum, although it will stay fresh in its pickling solution for up to a week.
6
Cut the beef into bite-sized pieces.
7
Season the meat with the shichimi togarashi, porcini salt, paprika, and salt & pepper to taste.
8
Heat an oiled frying pan, throw in the cut beef and sauté until cooked to your desired level of doneness.
9
Fill each tortilla with 2oz of the beef, five sticks of the pickled daikon, salsa verde to taste and top with a teaspoon of ikura. Serve immediately.
1
Wash all the herbs, shake off excess water, but don't worry about getting them perfectly dry.
2
Remove the thyme and oregano leaves from their stalks and discard the stalks. You do not have to do this to the other herbs as long as their stalks are tender rather than woody.
3
Throw all the herbs in a food processor (you may have to pulse some of the bunches down before adding more).
4
Add the other ingredients (except the olive oil) once the herbs have been chopped, and run the food processor again, drizzling in the olive oil until a sauce is formed.
5
Though the salsa verde can be used immediately, it will get better if you let it rest in the fridge for a few hours before serving.