Thick "Texas Style" Flour Tortillas
This lard-free tortilla recipe is easy to make, delicious and fun too! The tortillas actually bubble (and occasionally puff up) when you cook them, then deflate as they cool. You don't even need a tortilla press, a simple rolling pin will do.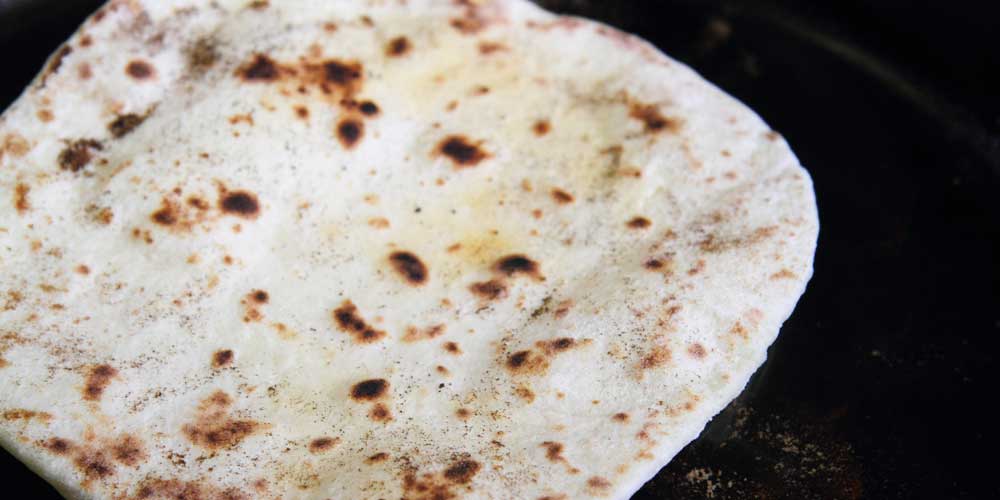 INGREDIENTS
2 cups AP Flour, plus extra as needed

1 1/2 tsp Baking Powder

1 tsp Salt

2 tsp Oil (vegetable oil, olive oil, etc.)

3/4 cup Whole Milk
DIRECTIONS
1
Heat the milk until it's quite hot.
2
Mix together all the ingredients & knead for two minutes. If the dough is too wet & sticky, add additional flour.
3
Once the tortilla dough has become silky in texture, put it in a bowl covered with plastic wrap and rest at least 20 minutes.
4
Divide the dough into eight equal balls.
5
Place the balls on a lightly oiled baking sheet. Cover with plastic wrap & let them rest at least ten minutes.
6
Heat a dry cast-iron skillet over medium, medium-high heat.
7
Either roll out all your tortillas ahead of time & cover them to keep them from drying out or roll each one right before you cook it (recommended for best quality).
To roll out a tortilla, dust the table and the dough lightly with flour. Use a rolling pin to roll one of the dough balls into an 8″ wide circle.
8
Put the rolled out tortilla into your skillet. When you start seeing bubbles forming in the tortilla, it's time to flip it. After flipping, cook briefly until the tortilla starts to rise off the pan via the bubbles. The first tortilla is generally not as pretty as the others.
9
Cover the cooked tortillas with a towel to keep them warm while you cook the rest.
10
Optional: Let the tortillas rest for a few minutes before serving, this may make them more tender.