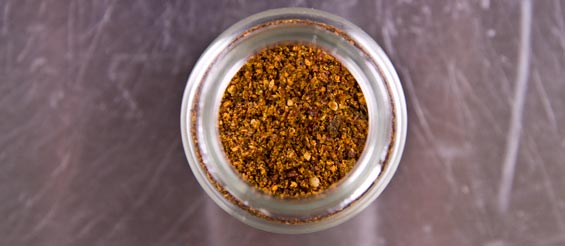 Far more than a simple chili powder, Japanese shichimi seasoning (aka Shichimi Togarashi or Yagenbori) is used all over Japan as a general purpose condiment.  Japanese often sprinkle some on finished dishes to spice up udon noodles, hot soba noodles, donburi (rice bowls topped with meat, onions, and sometimes egg),  ika karaage (fried cuttlefish tentacles) and other traditional "working class" Japanese food.  It is also added to some rice crackers to give them pep.
Shichimi's flavor, while spicy, is delightfully complex.  The mandarin orange zest gives it notes of citrus and sweetness, szechuan pepper adds a tingling sensation, and the other ingredients give it depth of savory flavor.  We've used aji amarillo chilies and japones chilies to provide most of the heat for this seasoning, but also added tepin chilies to give the shichimi more spice up front.  You can use any types of chilies depending on your desired spice level and flavor profile.
Though it has a lot of ingredients, shichimi is actually quite easy to make at home, and this recipe will make approximately 1/3rd of a cup, which should last you for a while.
Ingredients:
Two Dried Aji Amarillo Chilies
Eleven Dried Japones Chilies
1 tbsp Dried Tepin Chilies
Three mandarin oranges
1 tsp poppy seeds
½ tsp ground ginger
2 tsp white sesame seeds
2 tsp black sesame seeds
1 tsp Szechuan peppercorns
1 tsp toasted & crumbled nori
How to Make Shichimi Seasoning:
Preheat your oven to 225 degrees.
Peel the zest from oranges in strips using a vegetable peeler.  Scrape off any white pith from the inside of the zest using the point of a paring knife.
Lay the orange zest on parchment paper on a baking sheet.  Bake in the oven until hard and crispy (20-30 minutes depending on the size of the zest strips and your oven).  Let cool.
Lightly toast Aji Amarillo and japones chilies separately in a dry pan, tossing frequently, just until fragrant.
Let chilies cool, then remove the tops and seeds from them (don't bother removing seeds from the Tepins).
Grind all the ingredients together until they are a fine powder (see whole spice grinding techniques – we recommend an electric coffee grinder for this).  Package in a jar and keep in a cool, dry place for up to 4 months.
Try using this shichimi seasoning in our Japan-inspired beef tacos recipe!
___________
Browse More:
Dried Chile Recipes & Techniques
Spice Recipes