Some spices (such as hibiscus flowers and fennel pollen) can be used whole, but to use most whole spices you will have to grind or grate them first.
Using a Grater: For whole nutmeg you will need to use a nutmeg or Microplane grater.  Simply drag the whole nutmeg nut across the surface of the grater repeatedly, taking care not to catch your fingers.  Microplane graters also work well with long pepper.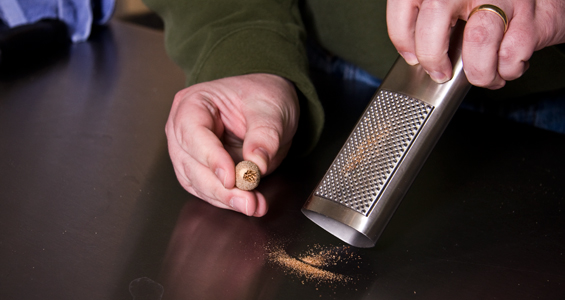 Note: Some standard box graters include a grating side suitable for nutmeg.  Its teeth should look like the ones on the nutmeg grater in this picture.
Using a Mortar and Pestle: 

These are great when you want to carefully grind up spices like star anise (pictured) and juniper berries to a very specific size.  They can also be used to just crack open whole cardamom or Tellicherry peppercorns for making infusions.  We highly recommend that you choose a mortar and pestle with a rough texture in the bowl, as the friction will speed up your grinding considerably.
Using a Bladed Electric Coffee Grinder: 
Truth be told these don't do a great job of grinding coffee (for that you want a burr grinder) but they're very affordable and great for grinding spices in the home.  Just be sure to clean them out after each use (grinding and then discarding some dry white rice is a good way to do this) so that you're not accidentally mixing spice residues into your coffee.  While you don't have as much control as when using a mortar and pestle, coffee grinders are a fast way to grind spices like annatto seed, long pepper, grains of paradise, and lavender buds. They're also a great way to make chile powders. 
We do not recommend using coffee grinders to grind whole cloves or whole allspice, which can damage the plastic.  If you want to grind these using this technique, you'll want an actual motorized spice grinder with a metal compartment.
Using a Pepper Grinder: For Tellicherry pepper, the best grinding method is to use an actual pepper grinder.  Grinders that incorporate different settings that control how fine the resulting grind is are becoming more common and are great for gourmet cooking.  Depending on your grinder's design and construction, it may be possible to also use it to grind peppercorn-sized spices such as Szechuan pepper, and allspice, though it will depend on your actual grinder and whether you want to add different flavor notes to your peppermill.  If your pepper grinder cannot handle other spices, simply use an electric coffee grinder or mortar and pestle as normal.

___________
Browse More:
Spice Recipes
Culinary Techniques