Buying fresh mushrooms in bulk and preserving them yourself is a cost-effective way to ensure you have wild mushrooms in your pantry all year long.  Below are the methods we prefer for preserving and storing leftover mushrooms:
How to Dehydrate Fresh Mushrooms

If you dry them, they will last for years and retain an intensified form of their intrinsic flavor and vital properties. The best way for most home chefs to dry fresh mushrooms is using an actual dehydrator machine, which dehydrates at a low temperature, better preserving mushrooms' flavor.
In a pinch you can spread mushrooms on a sheet tray covered with parchment paper in your oven, and bake them at 140 degrees (as low as many ovens will go) until they've dried out.  However, this isn't a perfect method because you're likely to partially-bake your mushrooms while drying them. 
How to Prepare Fresh Mushrooms For Drying:
For thinner, smaller varieties like chanterelles, black trumpet mushrooms, and hedgehog mushrooms, you can simply lightly rinse , pat dry, and dehydrate them whole. If you find any particularly large or thick examples you may want to halve them first so they're similar in size to the others.
Thicker, meatier mushrooms like lobster mushrooms, portabellos, and porcinis should be sliced before drying. We recommend slices that are about 1/4″ thick.
How to Dry Mushrooms in a Dehydrator:
Start your mushrooms out in a dehydrator set very low (80-90 degrees) for the first few hours, then turn the heat up to 120-125 degrees. You shouldn't need to use any special tray liners, the basic plastic grates work just fine. It could take anywhere from four to eleven hours to dehydrate your mushrooms. We can't really give you a better estimate than that, because it can vary quite a bit depending on their moisture content, how much you're drying, and your ambient humidity. A good rule of thumb is to check them every hour or so until they're starting to dry out, then switch to checking every half hour. They're done when they're completely dried out and hard.
Once you've established a baseline for your dehydrator, mushroom type & area, you likely won't need to check as often in the future. If during your checks you notice some of the smaller mushrooms have finished drying ahead of the larger ones, go ahead and remove the dried mushrooms from the trays early, leaving them in can damage their quality.
Store your dried mushrooms in an air-tight container in a cool, dry cupboard.  Read How to Rehydrate Dried Mushrooms for tips on making them soft again.  
Note: Chanterelles often reconstitute woody, so we prefer to puree them for delicious soups and sauces rather than serving them as whole mushrooms.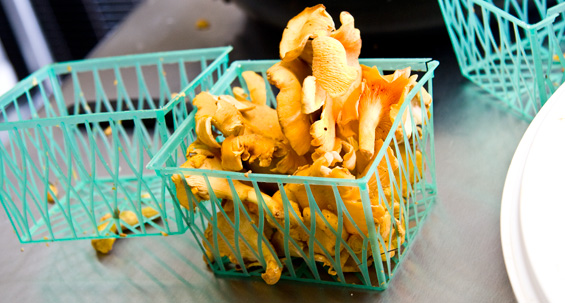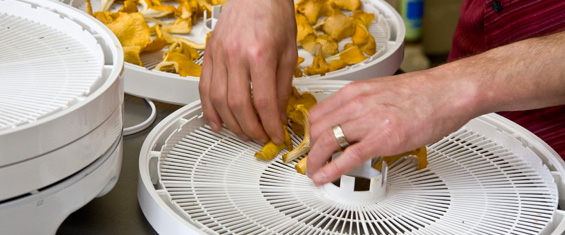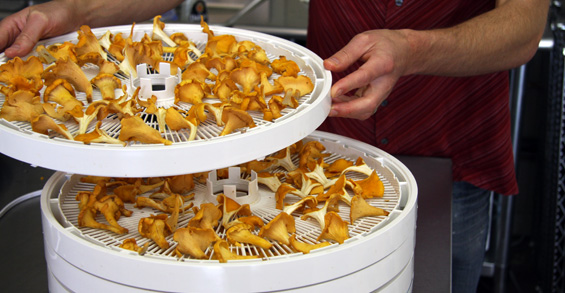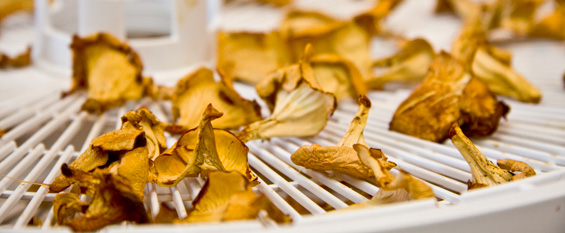 How to Freeze Fresh Mushrooms
1. Most varieties you can simply brush off the clinging dirt, but for mushrooms with a lot of nooks and crannies, you might want to give them a gentle rinse, and then carefully dry them as thoroughly as possible.
2. Whether to cut your mushrooms into smaller pieces depends on the size of the mushrooms and your future plans for them. In general, when freezing something the smaller the pieces the better…but if you need them whole or in larger pieces you can freeze them that way.
3. Put a sheet pan in your freezer until it's good and cold.
4. Place the mushrooms/pieces on the sheet pan in a single layer so they don't touch each other. Freeze them solid, uncovered.
5. For storage, move the frozen mushrooms to a freezer bag or (even better) a vacuum pack bag. Get as much air out as possible, seal, and keep them frozen until you're ready to use them.
6. Only thaw mushrooms when you're ready to use them, as refreezing can damage their flavor/texture.
Note: You can also partially cook (sauté) fresh mushrooms in oil and then freeze them, which will save cooking time later on.
For more info, read How to Freeze Better at Home.
How to Can Fresh Mushrooms
Lastly there is canning mushrooms in oil. Cook down mushrooms in oil and place inside a mason jar, the heat should seal the jar. Keep refrigerated for up to two months!
If anyone has other techniques, please add them in a comment below, or link to your content.
___________
Browse More:
Culinary Techniques
Mushroom Recipes