Kobe Hot Dogs with Peppered Bacon & Yogurt-Cucumber Sauce
Makes 10 Servings
WINE PAIRING
Xynomavro from Greece or German Riesling
Sweet-spicy-crispy bacon, beefy Kobe hot dogs & a cool, creamy Greek-inspired cucumber yogurt sauce. This is quite a hot dog.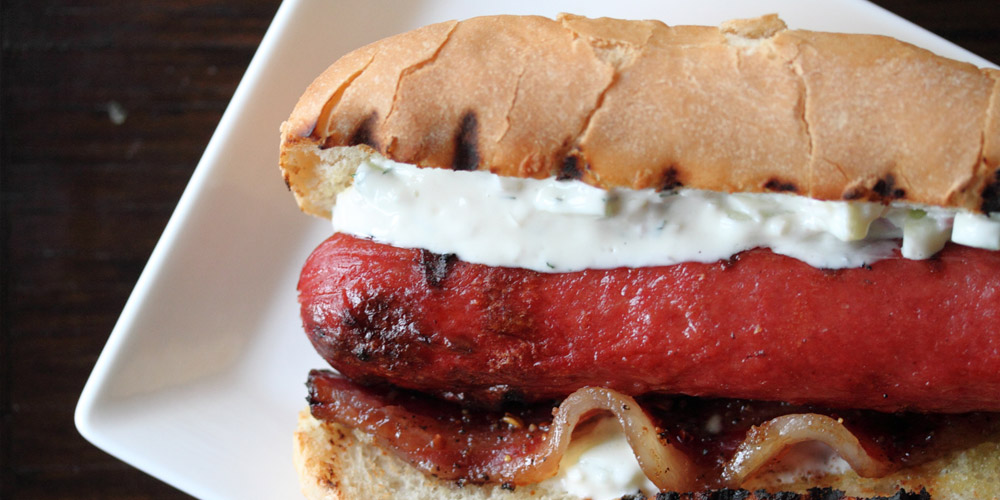 DIRECTIONS
1
Preheat your oven to 350 degrees.
2
Mix together the brown sugar, chile flakes and black pepper.
3
Lay the bacon strips out on a sheet pan covered with a layer of tin foil and coat them with the chile-pepper-sugar mixture.
4
Mix together the yogurt, cucumber, dill, and shallot. Taste for seasoning and add salt as needed.
5
Roast the bacon in the oven for about 12 minutes, until crisped to your liking.
6
Clean & oil your grill.
7
Brush your buns with olive oil.
8
Grill the hot dogs & the buns.
9
Spread the cucumber yogurt mixture on the buns, then top it with a slice of glazed bacon. Add a grilled hotdog, shake on some celery salt & serve.