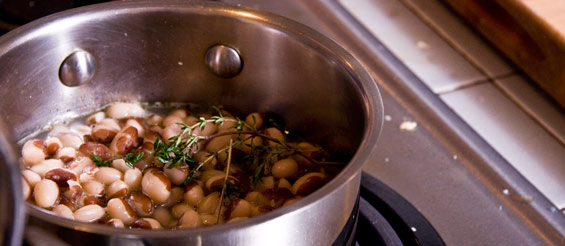 While you can simply use a basic bean cooking method to prepare beans, this recipe adds flavor and moisture by slowly reducing chicken stock down to a flavorful sauce.
Ingredients: (Makes 6 Servings)
½-1 cups dry Stuben Yellow Eye Beans (could substitute Flageolets, Scarlet Runner Beans, or Rice Beans, adjusting cooking time in step 2)
2 Shallots, thinly sliced
3 sprigs Fresh Thyme
1 cup Chicken Stock
Olive Oil
Salt & Pepper to taste
Directions:
1.  Soak the beans overnight in water & rinse them off.
2.  Add them to a pot of fresh water and cover, bring the water to a boil for three minutes, then reduce to a simmer for 60-90 minutes (until tender).
3.  Strain the beans.
4.  Sweat the shallots in olive oil in a pot until translucent.
5.  Add the sprigs of thyme and the cooked beans.  Deglaze with the chicken stock.
6.  Bring the stock to a simmer, and cook until the chicken stock has reduced to a sauce-like consistency.
7.  Season with salt & pepper.  Serve.
___________
Browse More:
Bean & Lentil Recipes