WILD MINER'S LETTUCE SALAD
Miner's lettuce is a delicious wild salad green with a crisp, mild (slightly spinach-esque) flavor that is available from about March to June. This salad, made with pine nuts, cheese, homemade vinaigrette, and dried cranberries really allows it to shine while contrasting shapes, flavors, and colors for an interesting presentation.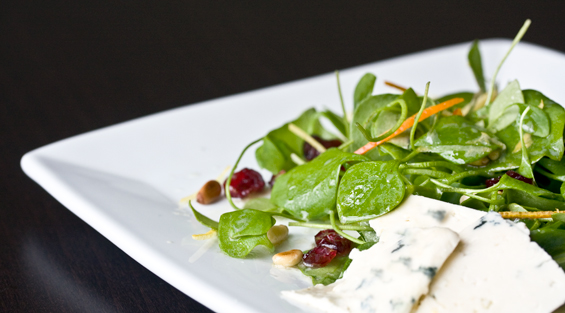 DIRECTIONS
1
Arrange the miner's lettuce on a white porcelain plate, and sprinkle on the dried cranberries.
2
Lightly toast the pine nuts in a dry pan on the stove top. This can also be done in the oven, but pine nuts burn extremely easily, so the stove top allows you to keep a better eye on them. Try to flip them over by shaking the pan in order to brown them evenly. As soon as they start to develop a light to medium brown color on the sides and smell nutty, they're done.
Sprinkle them over the salad hot or allow them to cool first. You can also add lightly toasted camelina seeds at this stage to sneak extra vitamin E and omega-3's into your salad.

3
Slice the blue cheese as thinly as possible and arrange on the plate.
4
Using a spoon, whisk, or squeeze bottle, drizzle small amounts of the vinaigrette on to the plate and miner's lettuce.
5
Using a Microplane or citrus grater, grate a little lemon or orange zest over the top of the salad to finish.
Post Written by Matthew Johnson