WILD BOAR SLOPPY JOE RECIPE
Makes 4 Servings
DRINK PAIRING
Bourbon on the rocks or a Pilsner from Germany
Forget the can, forget the school cafeteria.
Say hello to wild boar, fried duck eggs, fried jalapenos, and brioche buns - the definitive Sloppy Joe. It'll blow your mind. Note: The below version is savory, but not spicy. We recommend adding some cayenne pepper to the sauce if you want more kick.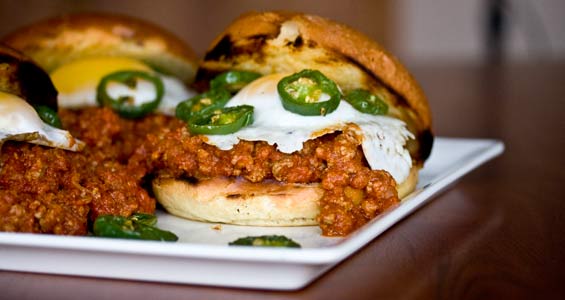 INGREDIENTS
1 1/2lb Ground Wild Boar


1 Onion, diced

12 oz Canned Tomatoes, pureed

2 tbsp Brown Sugar

2 tsp Powdered Mustard

1 tsp Garlic Powder

1 tsp Worcestershire Sauce

1 tsp Pimenton/Smoked Paprika (could substitute other Paprika)

2 Jalapenos, sliced ¼" thick

4 Brioche Buns

Melted Butter

Olive Oil

Sea Salt
DIRECTIONS
1
Sweat the onion in oil until translucent.
2
Add the wild boar, breaking up any clumps. Brown the meat.
3
Pour in the pureed tomatoes. Stir in the sugar, garlic powder, mustard, pimenton and Worcestershire sauce for 45 minutes. Taste & add salt as needed.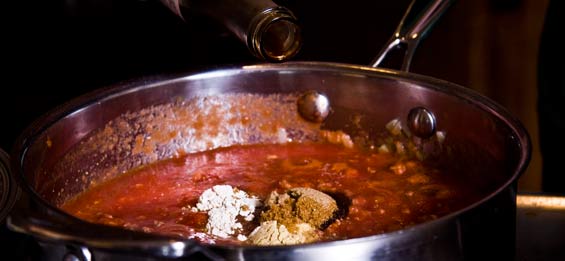 4
Heat a ¼ inch of olive oil in a frying pan until it shimmers.
5
Add about 8 of the jalapeno slices, taking care not to overcrowd the pan. When the seeds and outer edges have started to brown, remove the slices and put them on a paper towel to drain.

6
Brush the brioche buns with the melted butter.
7
Heat a large frying pan with some of the melted butter in it. Carefully crack the duck eggs in to the pan and salt them. Put a lid on the pan, and cook for 30 seconds to 1 minute (until the whites are cooked through, but the yolks will still be runny).

8
Brush the brioche buns with the melted butter.
9
Brush the brioche buns with the melted butter.