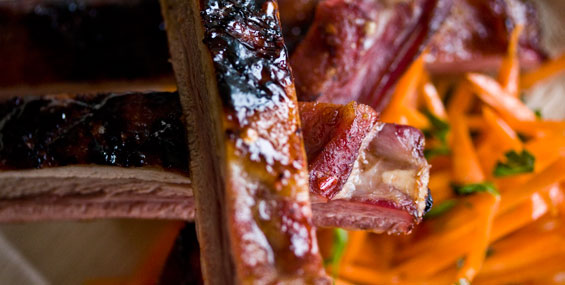 Slow Roasted BBQ Ribs
Slow-roasting pork or wild boar ribs on the grill gives them a tougher, chewier texture than braising…but some people prefer that. The spice rub we've used here is sweet up front, with a building heat in the back.
Drink Pairings: Syrah from Northern Rhone or Malbec from Argentina
Ingredients: (Makes 4 Servings)
4lbs of Wild Boar St. Louis Spare Ribs
(could substitute Kurobuta Baby Back Ribs or conventional Pork Ribs)
1 cup Brown Sugar
2 tsp Kosher Salt
2 tsp Pimenton/Smoked Paprika (could substitute other Paprika)
2 tsp Cayenne
2 tsp Garlic Powder
1 tsp freshly ground Whole Allspice (How to grind spices)
1 tsp Red Pepper Flakes
Directions:
1. Optional: If desired, you can brine the ribs overnight in 8 cups of brining solution before proceeding with the rest of this recipe.
2. Mix together the brown sugar, kosher salt, pimenton, cayenne, garlic powder, allspice, and red pepper flakes to make the rub.
3. Rub the ribs with the rib rub. Wrap them in plastic wrap and place them in a bowl in the refrigerator for 2-3 hours.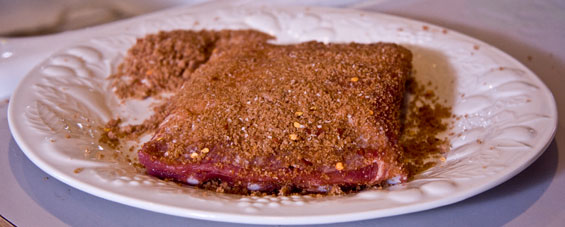 4. Turn on one side of a gas grill, close the hood and bring it to 250 degrees (via hood thermometer). Place the ribs on the hot side of the grill and cook them just long enough to give them grill marks.

5. Move the ribs to the cold side of the grill, and close the hood. Roast for 1 ½ -2 hours (until the meat starts to pull away from the bone and a pool of moisture forms on top of the rib). Slice and serve.
___________
Browse More:
Rib Recipes
Wild Boar Recipes
Pork Recipes