Salmon with Morel Vinaigrette
Makes 4 Servings
WINE PAIRING
Red Burgundy or Sangiovese from Italy (perhaps Chianti)
Less acidic than a vinaigrette with a hint of bite from the vinegar and lemon, this sauce compliments salmon beautifully. It adds richness to lighter salmon and brightens up heavier salmon varieties. The fruity/musky balsamic flavor blends into a delicious earthy finish from the morels.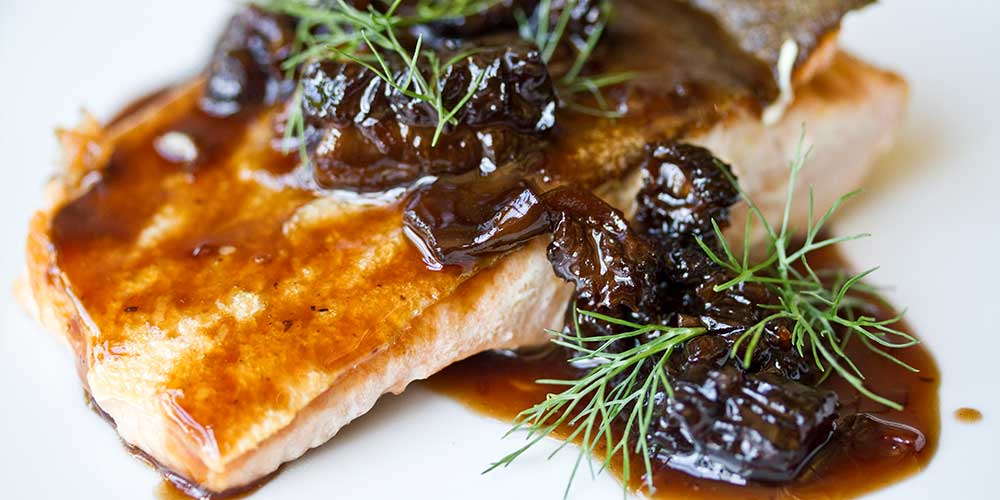 DIRECTIONS
2
In a separate pan, sweat the shallot in oil until translucent.
3
Pour in the balsamic vinegar,
simmer
to reduce its volume by half.
4
Add the cooked morel slices, lemon juice and 5 tbsp of butter. Stir the butter in slowly over low heat, adding it in pieces rather than all at once.
5
If the balsamic mixture has gotten too sweet, add a little more lemon juice to brighten it up. Place the sauce on the back of your stove (off the burners, but still warm), until you're ready to serve it.
7
Serve the salmon with some of the "beurre rouge" drizzled over the top. Make sure each plate gets some of the morel pieces.