Playful, colorful, and better for you, this faux couscous is made from cauliflower's more beautiful & enigmatic brother: romanesco.
Of course, since the "couscous" is made from a vegetable rather than wheat, it's also a gluten free alternative.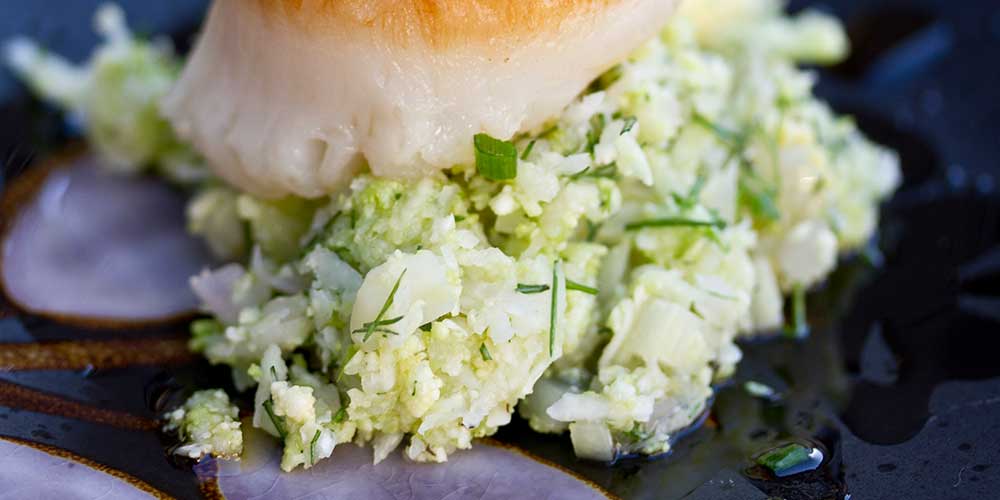 INGREDIENTS
1 Head of Romanesco

1 Medium Shallot, minced

¼ cup Champagne Vinegar

¼ cup of Water

¼ Fennel Bulb, diced

1 tsp Fresh Rosemary, chopped

3 tbsp Fennel Fronds, chopped

3 tbsp Fine Extra Virgin Olive Oil

1 tbsp Orange Juice

Salt & Pepper
DIRECTIONS
1
Cut the romanesco into thick slices, including the stem. Using the stem portion of each slice as a handle, grate the florets off using the small holes on a box grater.
2
Add ½ tsp of salt to the bowl with the grated romanesco and let sit for about 15 minutes to draw out the moisture.
3
In a frying pan combine the vinegar and water. Add the minced shallots, rosemary and fennel bulb.
Saute
over medium heat until the liquid has almost completely evaporated.
4
Squeeze the moisture out of the romanesco. Add to the dry romanesco the shallot-fennel mixture, orange juice, extra virgin olive oil and the fennel fronds. Toss to combine. Taste & add salt & pepper as necessary.
5
Garnish with the orange supremes (whole or chopped), chives and additional olive oil. Serve.