Roasted Bone Marrow with Date Jam & Lemon Parsley Salad
Makes 4 Servings
WINE PAIRING
Macon Chardonnay
Roasted marrow bones are a delicacy.  The center portion of beef bones is rich & buttery when roasted and when scooped out of the bone and spread on toast is a rare treat. 
Here we've paired them with a lemon & greens salad and a shallot & date jam to balance.  The date jam can be made well ahead, making this appetizer surprisingly easy & quick to prepare when the time comes.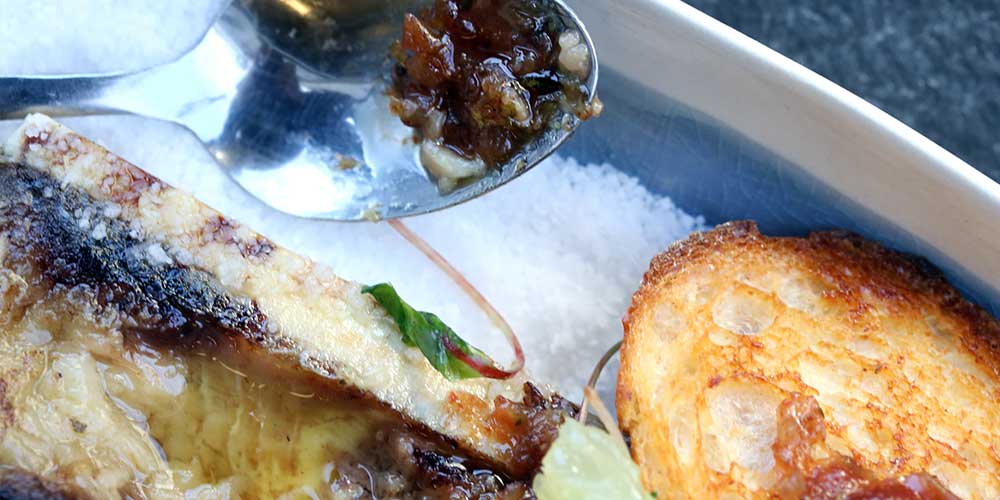 INGREDIENTS
3/4 tsp Sea Salt

8 thin bias-cut slices of Baguette
Salad:

2 Lemons

1 bunch Fresh Flat Leaf Parsley, stems removed

1 tbsp Olive Oil

Salt to Taste
DIRECTIONS
1
Preheat your oven to 375°F.
2
Grate and reserve the zest from the lemons, then peel them & cut them into supremes (
how to cut supremes
). Cut each supreme into quarters.
3
Spread the marrow bones, cut side up, out on a baking sheet with a lip. Sprinkle them with the salt.
4
Roast the bones until the marrow softens and begins to pull back from the bone (12-20 minutes).
5
Optional: If the bones/marrow aren't browned enough, briefly brulee them with a culinary torch.
6
Toast the bread in a lightly oiled frying pan.
7
Toss together all the salad ingredients.
8
Serve the marrow bones with toast, salad, and jam for people to construct their own bites, or scoop the marrow out & make individual toasts for passing as hors d'oeuvres.