This jam is easy to make, but also very delicious.  Once it's in your fridge it's a great shortcut ingredient to tastier sauces, sandwiches, and appetizers.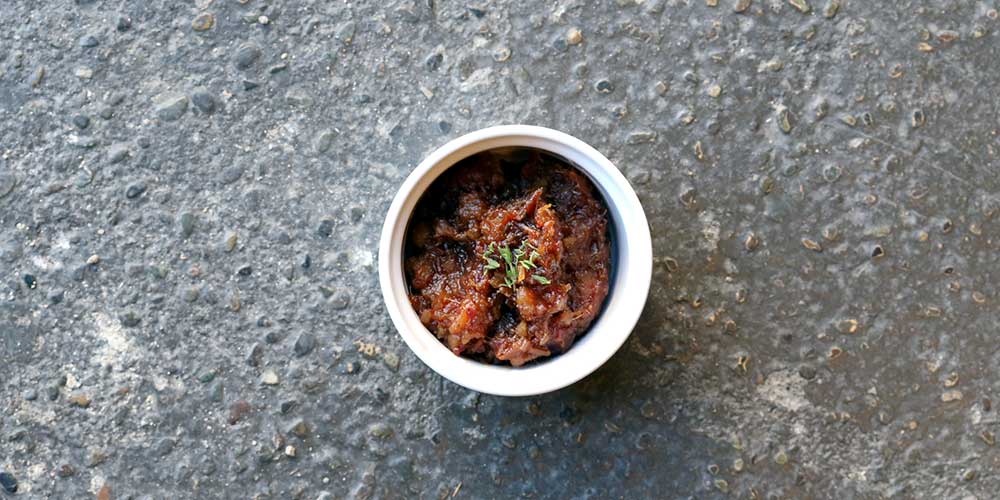 INGREDIENTS
2 tbsp Olive Oil

¼ cup minced (brunoised) Shallot

¼ tsp Salt, plus extra to taste

1 tbsp Brown Sugar

2 tbsp Dry White Wine

10 Pitted Medjool Dates, diced

1 tbsp chopped Fresh Thyme

2 tbsp Sherry Vinegar (we used Gran Reserva)

1 cup Water
DIRECTIONS
1
Sweat
the shallots with the salt, olive oil & brown sugar in a frying pan over medium low heat until they're very soft (about 10 minutes). After a couple minutes of the 10, add the white wine.
2
Add the dates, thyme, sherry vinegar & water. Bring the liquid to a simmer. Cook until most of the liquid has evaporated & it's reached a paste-like consistency (reduce the heat as it starts to dry out so it doesn't burn. Taste the finished jam & stir in additional salt if necessary.
3
Store the jam in your refrigerator for use on sandwiches, in sauces, and as an ingredient in all manner of other dishes.