Makes 6-8 Servings
WINE PAIRING
Old Vine Zinfandel
Tired of turkey? Had it with ham? Roast goose is a family gathering classic whose time has come again.
Roasting a whole goose isn't much more difficult than roasting a turkey. It offers intense flavor reminiscent of duck and an elegant presentation.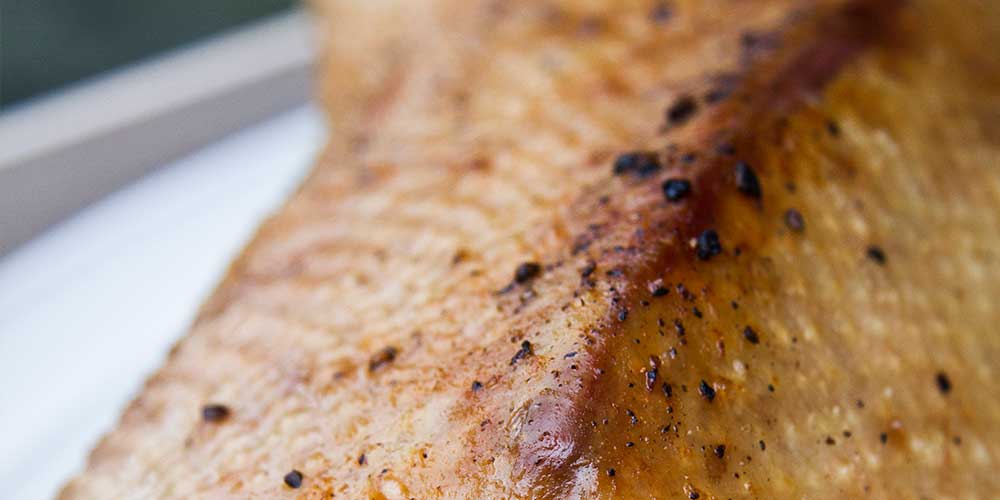 INGREDIENTS
1 Onion, chopped

3 ribs of Celery, chopped

3 Carrots, chopped

2 sprigs Fresh Sage

3 sprigs Fresh Thyme

1 cup White Wine

1 quart Chicken Stock
Optional:

Fine Extra Virgin Olive Oil
Optional Salad Garnish:

1 bunch Flat Leaf Parsley

1 Orange, cut into segments or supremes

Juice of 1 Orange

1 tbsp Italian Pine Nuts, toasted

1 tbsp chopped Fresh Chives

1 tbsp Sherry Vinegar

½ Fennel Bulb, Shaved

Salt & Pepper to taste
DIRECTIONS
1
Optional (but recommended:) Two days (ideally) before roasting, unwrap and rinse the (thawed) goose. Rub it with 3 tbsp of kosher salt and 2 tsp of freshly cracked black pepper.
Put the goose (uncovered) on a rack above a sheet pan or roasting pan on the bottom shelf of your fridge and let it sit for up to two days.
2
Preheat your oven to 500 degrees.
3
Remove the wings from the goose. Oil a metal roasting pan and heat it on the stove top over medium heat. Put the goose in the pan breast-side down. Add the wings.
Lightly brown the goose on all sides.
4
Once the goose is colored on all sides, add the carrots, celery, onion, sage and thyme to the pan. Continue to cook (goose with the breast-side up), sautéing the veggies.
5
Once the veggies have started to soften, add the white wine and chicken stock. Bring the liquid to a boil, then move the roasting pan to the oven.
6
Roast
the goose for 20 minutes, then reduce the oven temperature to 425 degrees. Continue to roast until the meat reaches an internal temperature of 160 degrees.
7
Remove the goose from the roasting pan and put it on a cooling rack over a pan. Loosely tent it with foil and let it rest 20 minutes in a warm place before carving.
8
Optional:
Pour off the juices from the pan (straining out the solids) and put them in a container in the fridge. Once the fat has risen to the top and solidified, remove it from the liquid and save for use as an intensely flavorful cooking fat (as you would
duck fat
or bacon fat). The juices can be used in sauces & gravies.
9
Optional: Toss together the salad ingredients.
10
Serve the bird on a large platter. Add the salad if desired.
11
Optional: Drizzle the goose with extra virgin olive oil.