Pan Roasted Kangaroo Medallions
Makes 1 Serving
WINE PAIRING
Red Burgundy Pinot Noir, or Ploussard from Jura, France.
Kangaroo's beefy, yet slightly smokey and sweet flavor is best enjoyed simply seasoned. Kangaroo medallions are very easy to cook, either pan roasted or grilled, and are a great way to try this exotic game meat for the first time. We recommend Jerusalem artichoke puree and a fresh herb salad, but you could also use heirloom potatoes, microgreens, or more conventional sides.
For another recipe using this same cut of kangaroo meat, see our grilled kangaroo medallions recipe.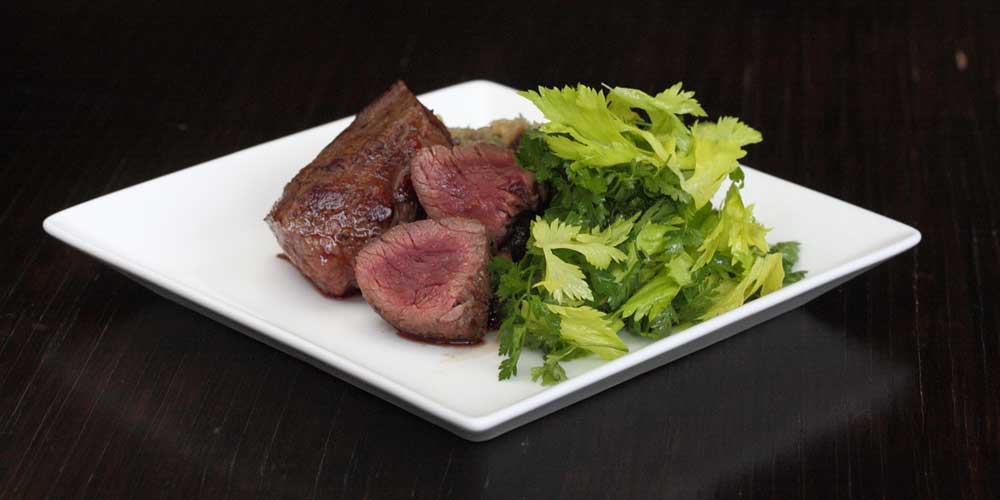 DIRECTIONS
1
Rub the kangaroo medallions with salt and pepper.
2
Add olive oil (not extra virgin) to a hot sauté pan. Carefully lay in the kangaroo medallions.
3
Cook the medallions until they develop a brown sear, then turn them. Repeat until all the sides have been seared.
4
Remove the medallions from the heat and allow them to rest for 5 minutes prior to slicing.
5
Slice the medallions and serve them atop the starch of your choice with a fresh herb salad on the side.