Kangaroo Medallions With Fennel Carrot Slaw
Kangaroo medallions are a good cut to start with if you're preparing kangaroo meat for the first time. They're easy to work with, tender, and when grilled with a simple marinade really showcase kangaroo's beefy, smoky-sweet flavor. Juniper berries pair well with kangaroo, like most game meats, bringing a subtle pine-forest scent and flavor to your dishes.
In this preparation, we've paired the grilled kangaroo medallions with a crisp, slightly acidic fennel & carrot slaw for a complete dish that won't leave you feeling stuffed.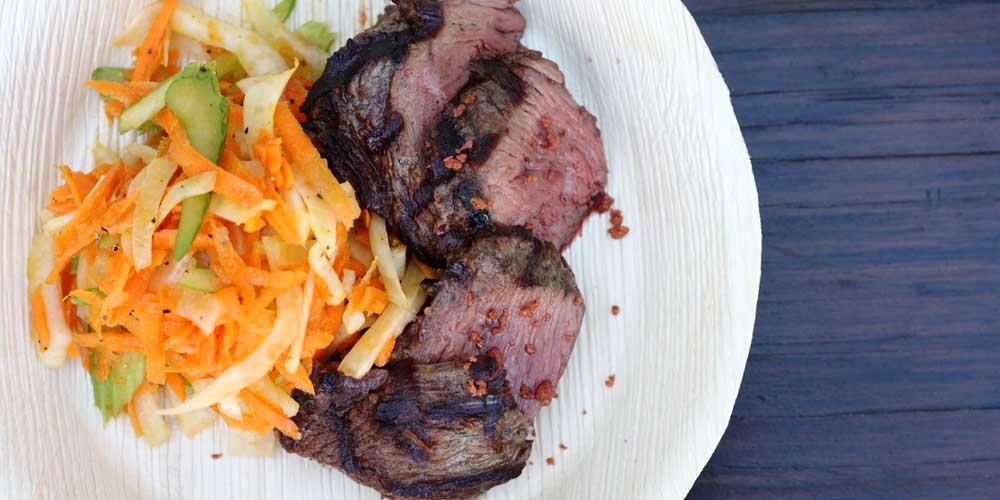 DIRECTIONS
1
Roll the medallions around the juniper berries and tie them with butcher's twine.
2
Make a marinade: slice the garlic cloves thinly, combine them with the oregano and olive oil in a bowl.
3
Submerge the medallions in the marinade. Marinate in the fridge (covered) for at least three hours, preferably overnight, before removing them from the oil and grilling.
4
Wash the vegetables and peel the carrots. Slice the vegetables fine with a knife,
mandoline
, or the slicing side of a box grater. Toss them with the oils, vinegars, and salt & pepper. Let the slaw sit (covered) in the fridge while you grill the medallions.
5
Grill the kangaroo medallions on a well oiled, hot grill until they reach your desired internal temperature (remember, kangaroo is extremely low in fat, and thus cooks very quickly). We cooked ours for about 5 minutes.
6
Cut and remove the twine, serve with the slaw.