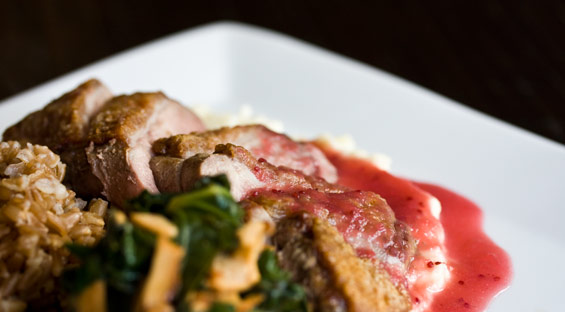 Duck Breasts with Cranberry Sauce & Parsnip Puree: (serves 6)
Wine Pairing: Pinot Noir from Burgundy or Oregon
Cranberry sauce isn't just for turkey! Here we've paired it with the rich, deep flavor of duck. Though you could use almost any sides, we've paired it here with farro cooked on the stovetop, parsnip puree and sauteed wild mushrooms with wilted kale (Stovetop Farro Recipe,
Sauteed Wild Mushrooms and Kale Recipe, Parsnip Puree Recipe).
Roasted Duck Breast Ingredients:
6 pekin duck breasts
2 sprigs of fresh thyme
1 cup of cranberry sauce –homemade is best (and easy! Cranberry Sauce Recipe)
Finishing Salt to taste
Directions:

1. Score the fat on the surface of the breasts, almost all the way through to the meat, in a crosshatch pattern. This will make the fat render out more evenly and quickly during the cooking process, resulting in a moist, rich, but not over-fatty duck breast.
2. Season the fat side of the breasts liberally with flor de sal.
3. Get a dry (no oil!) cast-iron skillet very hot, then lay the duck breasts in skin-side down. Start at medium heat for 1 minute, then turn the heat down to low and let the breasts cook slowly for about 20 minutes to render out as much fat as possible. Periodically drain off the excess fat that collects in the pan (save it for later! Duck fat is a tremendously flavorful cooking fat…particularly for roasting or sauteing heirloom potatoes).
4. When the fat is almost completely rendered out, add the thyme sprigs to the skillet.
5. Once the skin side is rendered out and crispy/crunchy, flip the breasts to cook the other side (this side will cook much more quickly). Remove them from the heat once they reach medium rare.
6. Let the duck breasts rest, covered with foil and on a clean plate, for five minutes.
7. Add cranberry sauce to the pan drippings, and heat to reduce to napper consistency (i.e. it coats the back of a spoon).
8. Plate the duck breast with your starch and sides of choice. Finish with the cranberry sauce.

___________
Browse More:
Duck Recipes
Poultry Recipes
Berry Recipes