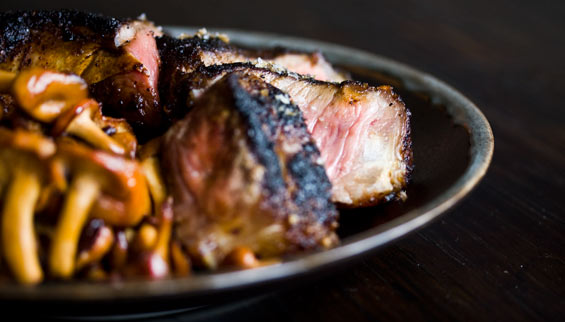 NY Strip Steak with Sour-Sweet Mushrooms
(serves 2)
Wine Pairing: Right Bank Bordeaux or Priorat – Spain
This recipe tempers the strip steak's richness with heat and fruitiness from the chile powder (how much depends on which powder you use). The mushrooms are buttery with a sweet & sour background flavor.
Strip Steak:
1 Grass-fed New York Strip Steak (you could use any other specialty strip steaks)
1 tbsp chile powder of your choice or Homemade Chili Powder (we used a blend of two New Mexico Peppers, two Pasilla Negro Peppers, two Aji Panca Peppers, and one Ancho Pepper)
½ tbsp unsalted butter
Salt to taste
Roasted Mushrooms:
1 tbsp unsalted butter
1 tbsp olive oil
1 lb fresh mushrooms (you could use almost any variety, but we've used fresh hedgehog mushrooms here)
Juice of 1 1/2 limes
2 tbsp maple sugar (you could also substitute maple syrup or brown sugar to taste)
1. Preheat your oven to 400 degrees.
2. Thoroughly dry off the NY strip steak.
3. Coat the steak (as a dry rub) with chili powder and sea salt.
4. Sear the steak on all sides in a hot well-oiled pan that is oven safe. Once a crust has developed, move the pan to the oven to roast. Optional: Insert a probe thermometer into the steak to help you better judge when it's ready.
5. Wipe off the hedgehog mushrooms. Saute them in a pan with the olive oil and butter.
6. Once the steak is almost cooked (5-10 degrees away from your target temperature), move it to a clean plate, top with the unsalted butter, cover, and let it rest for 5 minutes before slicing or serving. The residual heat in the steak will continue to cook it the rest of the way (this is called carry over cooking).
7. Mix together the lime juice and maple sugar.
8. When the mushrooms are tender and caramelized, deglaze their pan with the lime juice/maple sugar mixture.
9. Plate the steak (sliced or whole) with the mushrooms.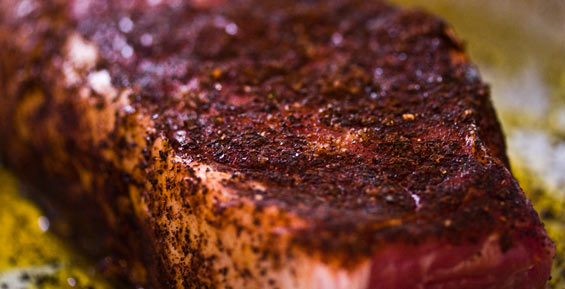 ___________
Browse More:
Steak Recipes
Dried Chile Recipes & Techniques
Mushroom Recipes
Beef Recipes
Bison Recipes