Morel Risotto with Caramelized Onion Butter
Makes 4 Servings
WINE PAIRING
Chardonnay
Confession time. We omitted parmesan cheese from this risotto. We know that probably sounds like sacrilege…but the morels made us do it. They're so delicious – we wanted them to take center stage.
This recipe will leave you with left over caramelized onion butter. That's not a bad thing! Try it on biscuits, savory scones, etc.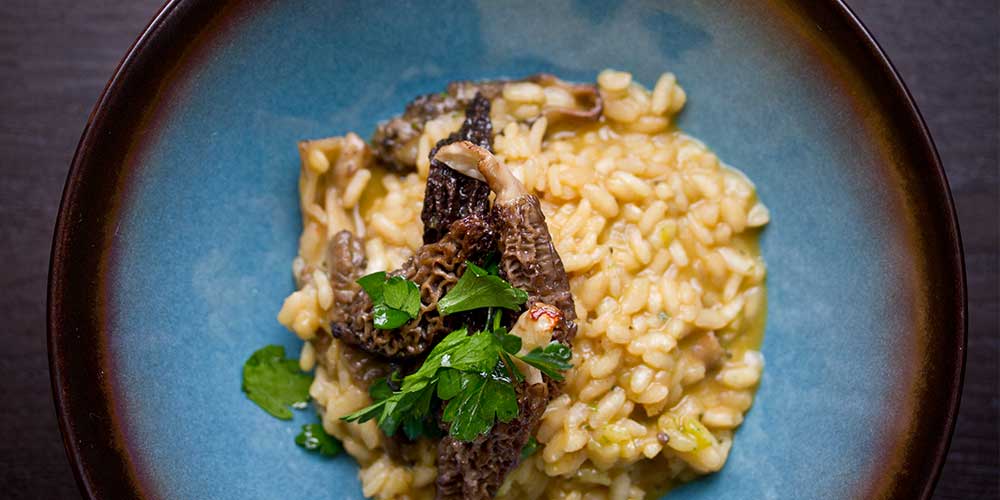 INGREDIENTS
4 tbsp of Unsalted Butter
Approx. 1 1/2 quarts Vegetable Stock (have a little extra on hand)
2 cups Vialone Nano Rice(could substitute other risotto rice, modifying stock quantity & cooking time)
½ cup White Wine
½lb Fresh Morel Mushrooms (could substitute reconstituted dried morels)
1 tbsp minced Fresh Thyme Leaves
Salt & Pepper
Caramelized Onion Butter:
2 1/2 Onions, peeled & thinly sliced
1/2lb of Unsalted Butter
3 large sprigs of Fresh Sage
Salt
Garnish:
Flat Leaf Parsley for Garnish
DIRECTIONS
1
Make the Onion Butter:
Slowly
caramelize the sliced onions
. Add them to a food processor with the 1/2lb of butter, sage, and salt to taste. Process into a uniform butter & reserve in the fridge until you need it.
This step can be done a day or two ahead of time (even longer if you freeze the butter).
2
In a pot, warm the veggie stock.
3
Melt the plain butter in a wide frying pan. Continue to cook it until it browns and emits a nutty aroma.
4
Add the rice and briefly toast it, stirring occasionally until it's lightly browned.
5
Deglaze the pan with the white wine.
6
Add ladles of hot stock, stirring frequently…only adding more stock as the last infusion is absorbed (see
how to make risotto
for the full technique).
7
Once the rice is tender, remove the risotto from the stove and stir in the thyme and six tablespoons of the onion butter.
8
In a separate cast iron skillet or frying pan, melt 1 tbsp of the onion butter and add the morels. Saute the morels until cooked through, then add them to the risotto (for a better presentation, hold some back and put them on top after plating).
9
Taste the risotto and add salt & pepper as necessary. Serve garnished with flat leaf parsley if desired.