Makes 4 Servings
WINE PAIRING
White Burgundy
Dutch babies are basically a cross between a pancake and a popover – fluffy, eggy and absolutely delicious. While they're traditionally a sweet breakfast food, there's no reason they can't be savory instead.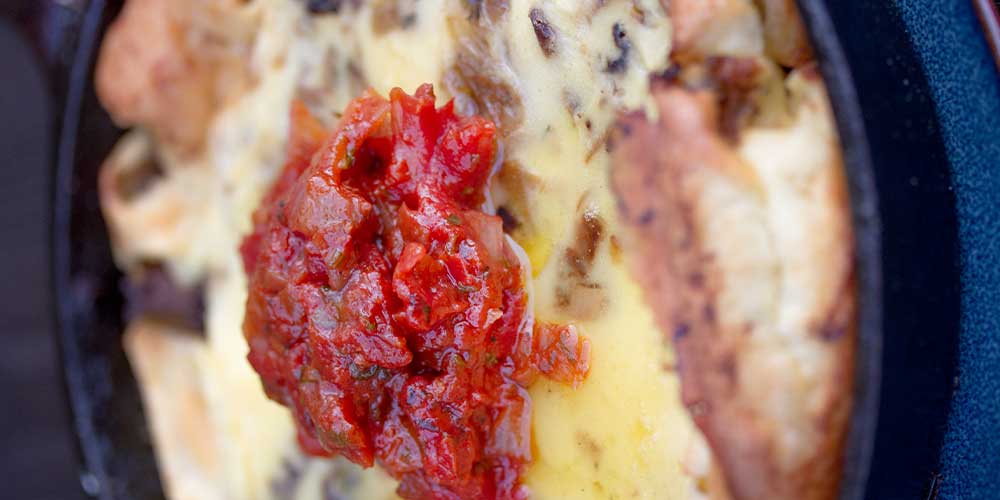 INGREDIENTS
Base Batter:

6 Eggs

1 tsp Salt

1 ½ cup Whole Milk

1 ½ cups All Purpose Flour
Bottom Mixture:
½ oz Dried Morels

White Portion of 1 Leek, finely sliced

2 tbsp Unsalted Butter

Pinch of Salt

1 tsp Fresh Thyme, minced

1 tbsp Unsalted Butter
DIRECTIONS
1
Rehydrate
the dried morels & slice them into rings. Strain & reserve the soaking liquid.
2
Preheat your oven to 400 degrees.
3
Whisk together all the batter ingredients to combine. Don't continue whisking, you don't have to make sure all the lumps are gone.
5
Preheat a cast iron skillet in the oven (we used a 7 1/2" skillet).
6a
Melt the 2 tablespoons of butter in a frying pan or skillet. Add the leek and salt. Saute until the leek is softened & browned.
6b
Add the morels, the thyme, and 1 cup of rehydration liquid. Simmer to evaporate all the liquid.
7
Swirl the tablespoon of butter around the bottom of the pre-heated skillet.
8
Put the morel mixture in the skillet, and pour over the batter.
9
Return the skillet to the oven and bake until the dutch baby is well puffed (approx. 20-25 minutes). Do not open the door before 20 minutes.
10
Serve immediately, topped with grated parmesan and optionally with tomato jam on the side.