This tomato jam is a thick, rich tomato sauce that has been cooked down to a jam-like consistency. It makes a great condiment, topping, or addition to sandwiches.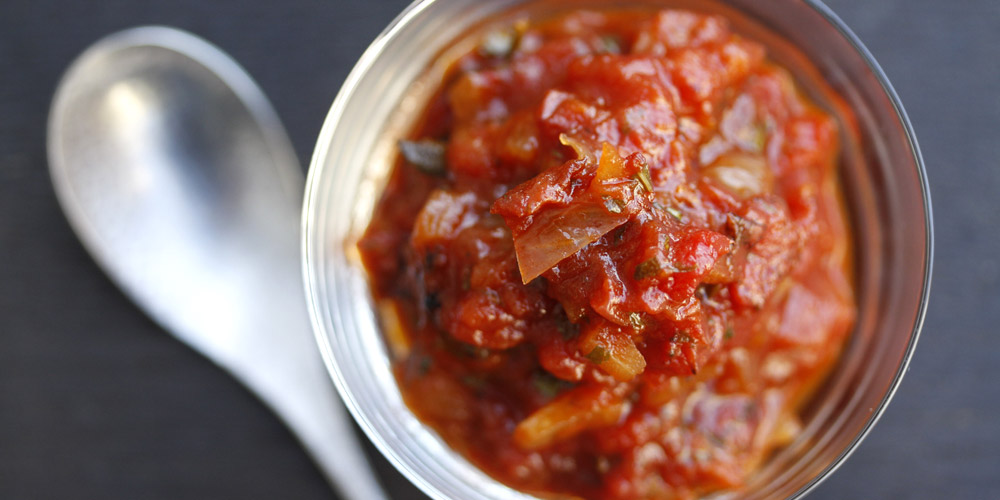 INGREDIENTS
2 tbsp of Olive Oil

½ Onion, small diced

1 sprig Fresh Rosemary

28oz can Fire-Roasted Whole Tomatoes

3 tbsp Sugar

½ Cup Red Wine Vinegar

1 tsp Orange Zest

2 tbsp minced Fresh Basil

1 tsp minced Garlic

Salt & Pepper to Taste
DIRECTIONS
1
Lightly coat a large cast iron skillet or frying pan with the oil.
2
Add the onions and the rosemary sprig. Sprinkle the sugar over the onions. Saute the onions over medium-low heat for 10-15 minutes, until well caramelized.
3
Open the tomato can and use kitchen shears to cut up all the tomatoes.
4
Add the tomatoes (with their juice), red wine vinegar, orange zest and garlic to the pan.
5
Stew the tomatoes over medium-high heat for about 15 minutes, until most of the liquid has evaporated and the mixture has cooked down to a jam-like consistency.
6
Stir in the basil. Add salt & pepper to taste.