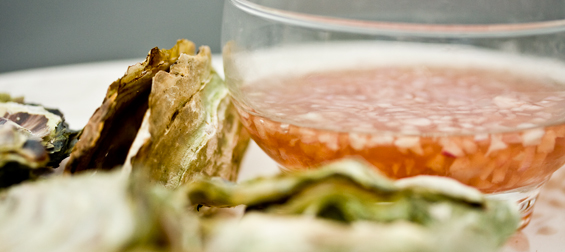 Plenty of people prefer their raw oysters on the half-shell seasoned with just a little lemon juice, vinegar, or hot sauce.  That's fine for us in a pinch or on a picnic, but when possible a mignonette can't be beat.
Basic Mignonette Sauce
1 tbsp very finely diced shallots
3 tbsp champagne vinegar
Directions:
1. Add shallots to champagne vinegar, and serve the completed sauce on your platter of fresh oysters, so people can choose how much they want.
Really, that's it.  It'll probably take more time to open the oysters (be sure to use a good oyster knife for your safety & sanity) than to make the sauce.  Of course, if you wanted to add more complexity to your mignonette, here are some suggestions:
Use a different vinegar: Sherry vinegar is a classic choice, although we like the clarity provided by champagne vinegar.  For really exciting flavors, try using one of Ritrovo's Fruit Vinegars (though we'd recommend not using cherry for this, it's very strong).

Add other flavors: Lemon juice, dry white wine, and freshly ground tellicherry peppercorns all work well in mignonettes.
If anybody has any other great mignonette recipes, we'd love to hear them (just leave a comment below!).
Other Oyster Content:
How to Open Oysters
Oyster Recipes & Techniques
Also Check Out:
Other Vinegar Recipes