Lamb Loin Fillet with Citrus Cashew Cream & Prosciutto Orange Sauce
Makes 2 Servings
WINE PAIRING
White Burgundy or Barbera
Lamb's elegant flavor pairs beautifully with the orange and cashews, mint and pine nuts.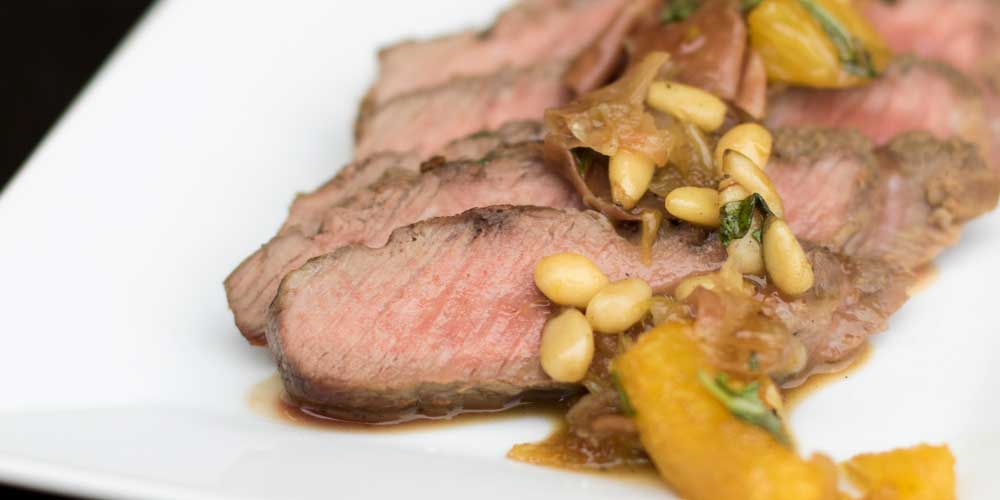 INGREDIENTS
Citrus Cashew Cream:
1 cup Cashew Cream

2 tbsp Orange Juice

1 tbsp minced Fresh Mint

1 tbsp Lemon Juice
DIRECTIONS
1
Toast the pine nuts in a dry pan until lightly browned and aromatic, then remove them from the pan.
2
Trim the fat cap and silver skin off the loin fillet. Tie it with loops of butcher's twine to compact the meat and make it more uniform in thickness.
3
Season the loin liberally with salt & sear it on one side in a hot, oiled skillet or frying pan. Turn the heat down to medium and flip the loin. Add the shallot and the stock. Continue to cook until the meat reaches an internal temperature of 125°F.
4
While the lamb is cooking, combine the cashew cream, orange juice, mint and lemon juice in a small bowl. Mix well.
5
Once the lamb has cooked, remove it from the pan to rest. Continue to simmer the stock in the pan, until it has reduced to a sauce consistency. Add the orange supremes and prosciutto.
6
Right before serving, add the remaining mint leaves and toasted pine nuts to the sauce in the pan.
7
Cut the twine off the loin. Spread a layer of cashew cream on the plate. Slice the merino lamb & position the slices above the cream. Sprinkle them with a little finishing salt.
8
Drizzle the plate with the pine nut, orange & prosciutto sauce.