Makes 4 Servings
WINE PAIRING
Viognier
Savory, tangy, earthy, fruity (but not too sweet), this dish is filling, but not heavy.  Really delightful, this recipe was a staff favorite during the shoot.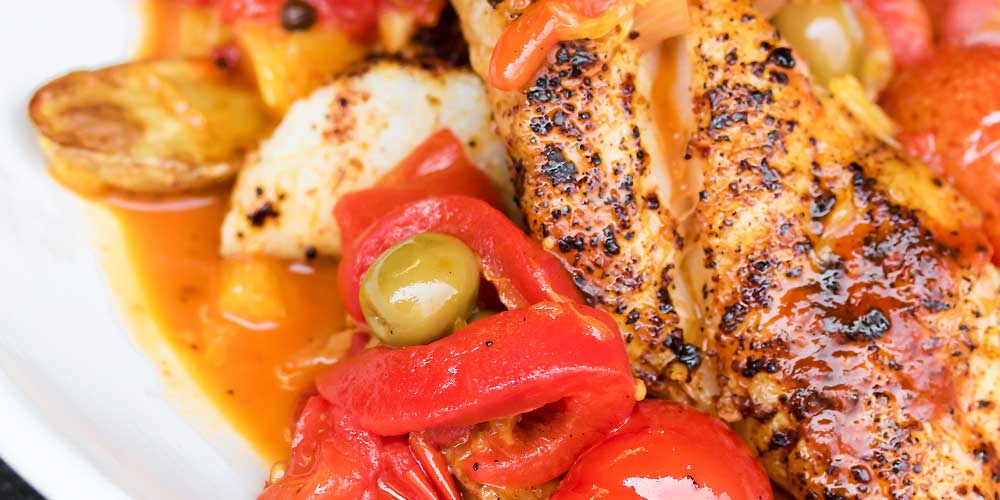 INGREDIENTS
1lb of Ling Cod, skinned & boned

1lb Fingerling Potatoes, halved lengthwise

1 Shallot, Sliced

¼ cup Dry White Vermouth

16oz Jarred Tomatoes

1 Orange, cut into Supremes (how to cut citrus supremes)
1 Jar Roasted Red Peppers, drained & cut into thin strips (julienne)

¼ cup Arbequina Olives

2 tbsp Extra Virgin Olive Oil

Salt

Additional Extra Virgin Olive Oil for Garnish
DIRECTIONS
1
Preheat your oven to 400°F.
2
Cut the ling cod into four 4oz portions.
3
Lightly crust the cod portions with chile powder & lay them into a hot oiled skillet over high heat.
4
Sear the cod, turning as necessary, until cooked through.
5
Put the fingerling potatoes in a wide, oiled heavy skillet, cut-side down. Sprinkle them with a half tsp of salt.  Fry them, turning as necessary, until browned.
6
Move the potatoes to a baking dish & roast them in the oven until cooked through (5-10 minutes).
7
When the cod has cooked, remove it from the pan and add the sliced shallot. Cook until the shallot slices brown, then deglaze the pan with the vermouth.
8
Simmer until the vermouth has evaporated, then pour in the tomatoes (with their juice) along with the sliced roasted red pepper, orange supremes, arbequina olives & 2 tablespoons of extra virgin olive oil.
9
Simmer until the tomato juice mixture has reduced by half.
10
Plate the ling cod pieces in shallow bowls with the potatoes. Pour some of the tomato sauce around & over them.  Drizzle with a little bit of the hot sauce & extra virgin olive oil.  Serve with toasted crusty bread.