Baked Oysters with Mushroom Duxelles & Lemon Sabayon
Makes 4 Servings (plus extra duxelles)
WINE PAIRING
White Burgundy
These baked oysters are a truly luxurious meal, appetizer or hors d'oeuvre – an elegant combination of sea & shore on the half shell.  The sabayon sauce not only adds flavor and richness, it helps protect the oysters from the full heat of the broiler so they don't overcook & become rubbery.
To save time when preparing this dish, you can prepare the duxelles ahead of time.  You'll likely have leftover duxelles, which are lovely spread on toast.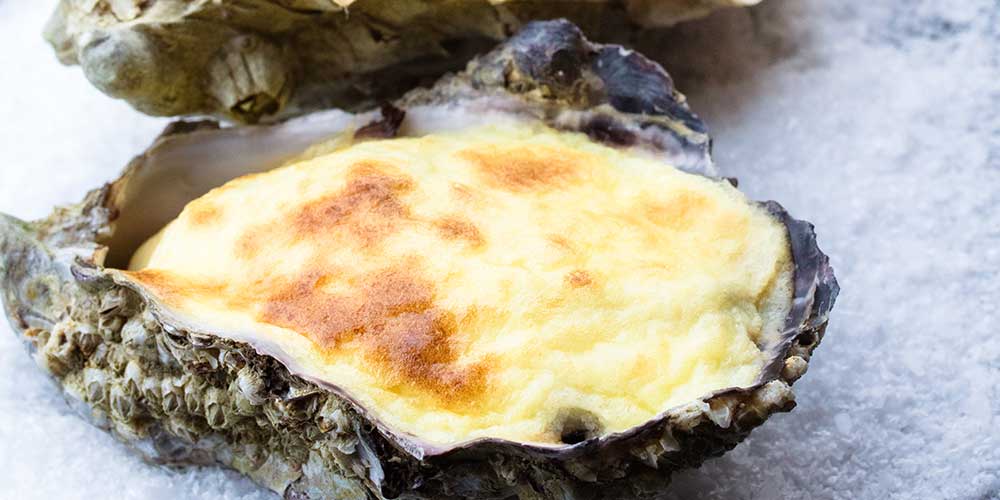 INGREDIENTS
Mushroom Duxelles:

1 medium Shallot, finely minced

2 tbsp Olive Oil

1 tsp Salt

1/2oz Dried Porcini Mushrooms, rehydrated & minced

1lb Fresh Cremini Mushrooms, finely minced (brunoised)

1 tbsp Minced Thyme

2 tbsp Sherry Wine

Squeeze of Lemon Juice
Sabayon:

6 Egg Yolks

2 tsp Lemon Zest, finely grated (ideally microplaned)

4 tbsp Strained Oyster Liquor (juices from shucked oysters)

4 tbsp Sparkling White Wine

2 tbsp Lemon Juice

2 tbsp Heavy Cream
DIRECTIONS
1
Pour the minced shallot into a pan oiled with the 2 tbsp of olive oil over medium heat.
Add the salt & stir.
2
When the shallot has softened & turned translucent, add the minced porcinis &
creminis to the pan.
3
Continue to cook, stirring, until the mushroom pieces are very well caramelized.
4
Stir in the thyme, lemon, pepper, sherry, and salt to taste. Remove the duxelles from the stove & let them cool completely.
5
Shuck the oysters
, remove & reserve both the oyster meat and the "liquor" (juices). Reserve the bottom (cupped) shells & clean them thoroughly of any grit.
6
Put 1 ½ tsp of the duxelles in each half shell. Top the duxelles with an oyster.
8
Combine in a metal bowl the egg yolks, lemon zest & juice, oyster liquor, cream, and white wine.
9
Bring a small pot of water to a boil, then reduce the heat to a low simmer.
10
Whisk the egg yolk mixture together on and off the heat, taking care to not let it scramble – you're trying to cook the eggs just enough to thicken.
When the sabayon lightens in color and is thick enough to see trails from the whisk as it moves through it, try lightly coat the side of the bowl.  A fair amount of it should cling there, such that you can draw your finger through it & see a clean section of the bowl.
When it reaches this point, it's done (this takes about 5 minutes).
11
Spread the oysters out on a baking sheet (if you're worried about them tipping, nestle them in small piles of kosher salt to hold them upright).
12
Top each oyster with a small squeeze of lemon juice (just a few drops each).
13
Top each oyster with a portion of the sabayon (such that the meat is completely covered).
14
Put the baking sheet/dish on the middle rack of the oven & broil the oysters just until the sabayon browns.