Lamb with Chocolate Chile Sauce, Spicy Pickles & Roasted Eggplant
Makes 4 Servings
WINE PAIRING
Syrah
This recipe balances the intensity of lamb with an earthy, deep, and spicy chocolate-chile pan sauce, hot pickled vegetables, and creamy roasted eggplant.
If you don't have the equipment (or the time) to cook the racks sous vide, you can sear & roast them in the usual fashion (example recipe).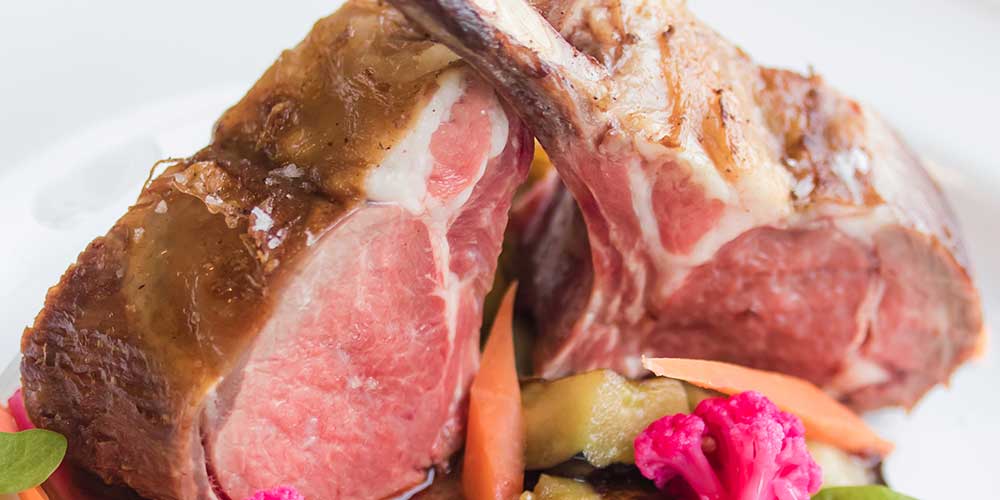 INGREDIENTS
Salt & Pepper

2 tbsp Olive Oil

2 tbsp High Heat Oil (Canola, Grapeseed, etc)
Chile Chocolate Pan Sauce:

1 cup Beef Stock

1/3 cup Fruity Hot Sauce Recipe

2 tbsp 64% Bittersweet Chocolate

½ tsp White Wine Vinegar
Eggplant Side Dish:

1 Medium American Eggplant, Medium Diced

½ tsp Salt

3 tbsp Olive Oil
DIRECTIONS
1
Preheat your sous vide machine to 130°F.
2
Dry off the lamb racks & season them with salt & pepper. Put the 2 tbsp of olive oil in the bottom of a sous vide bag, then add the racks.  Vacuum seal the bag.
(If you're having trouble getting a clean seal on a pump vacuum machine, freeze the olive oil in the bag, then add the racks, then seal).
3
Lower the racks into the water batch & cook for four hours.
4
Preheat your oven to 400°F.
5
Remove the bag from the bath and the racks from the bag. Pat the racks dry.
6
Get a wide heavy skillet, oiled with the 2 tbsp of high heat oil very hot over high heat. Gently lay in the lamb racks, fat-cap-side down.
Sear the racks until they develop a browned crust and some of the fat cap has rendered out, then flip them and sear the other side.  You're not trying to cook the interior of the racks any further, just brown the outside.
If the bones still look pink, tilt them down into the oil briefly, just to brown the bones.
7
Remove the lamb from the pan & drain off the excess fat & oil. Put the lamb on a plate to rest.
8
Pour the beef stock and hot sauce into the pan with any juices from the lamb resting plate. Bring the liquid to a boil and simmer, stirring occasionally, until it has reduced by half.
9
Put the eggplant cubes in a wide skillet. Oil them with the 3 tbsp of oil and season them with their salt.  Cook over medium-high heat, until the cubes brown.
Move the eggplant to the oven and roast until tender (5-10 minutes).
10
When the sauce has reduced, turn off the heat & stir in the chocolate until it melts into the sauce. Stir in the white wine vinegar.
11
Slice the lamb racks into double-bone chops, stirring any juices that run out into the sauce.
12
Put a pool of sauce on each plate, top it with the chops (two per plate) with the bones crossed.Add some of the eggplant and a few florets of the chile-pickled purple cauliflower & slivered portions of the pickled carrots.