Makes 2 Servings
WINE PAIRING
Syrah or Côtes du Rhône
Sumac is a tangy, fruity spice that pairs nicely with lamb. Here we've used it as a rub for a roasted lamb rack served atop braised cabbage with apples – a dish with more fall/winter flavors than our herb crusted lamb rack recipe.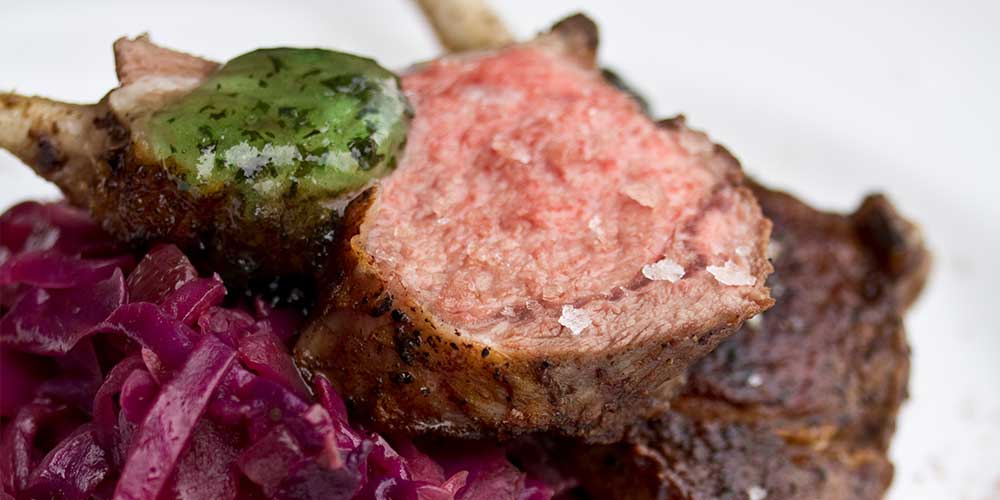 INGREDIENTS
One Frenched 8 Rib Lamb Rack

2 tbsp Canola Oil (or other high heat oil)

Mint Jelly
Braised Cabbage & Apples:

1 Onion, small diced

2 tbsp Olive Oil

1 pinch Kosher Salt

½ Cabbage, finely sliced or food processor grated

1 Tart Apple, medium diced (granny smith or gala)

¼ cup Red Wine

3 tbsp Apple Cider Vinegar

1 tbsp Dark Brown Sugar

¼ tsp Caraway Seeds

A couple grinds of Black Pepper
Sumac Salt:
1 tbsp Sumac

1 tbsp Fine Sea Salt
DIRECTIONS
1
Stir together the sumac and fine sea salt.
2
Preheat your oven to 400 degrees.
Braised Cabbage & Apples:
3
Put the 2 tbsp of olive oil in a large sauce pan over medium heat.
4
Add the onion and the salt. Caramelize the onions.
6
Deglaze the pan with the red wine.
7
Add a pinch of the sumac salt and caraway.
8
Add the apple cider vinegar, pepper & brown sugar.
9
Cover the pan and let it stew for 30 minutes (until soft with a little chew, or to taste), stirring periodically. Taste and stir in additional sumac salt as necessary.
10
Sprinkle some of the sumac salt over both sides of the lamb rack.
11
While the cabbage is stewing, sear the lamb rack on all sides on all sides in an oiled oven-safe pan on the stove until it develops a brown crust.
12
Move the pan with the lamb to the oven. Roast until it reaches your desired internal temperature.
We recommend 125-130 for med rare (about 10 minutes) or 130-135 for med/med-rare.
13
Remove the lamb from the oven & pan. Put it on a separate plate, loosely covered with tin foil & let it rest for 15 minutes before slicing.
14
Slice the rack into two-rib sections & serve atop the cabbage, finished with some of the mint jelly and a sprinkle of flake salt.
Variations: Serve with mashed potatoes, mashed celery root, scalloped potatoes, etc.