Makes 2 Servings
WINE PAIRING
Mourvedre from Bandol or Tempranillo from Rioja
In the world of lamb rack recipes, you can't get more classically French than an herb crusted whole roasted rack. This restaurant favorite is really easy to make at home, and a surefire way to impress guests.
Traditionally this dish uses a blend of fresh parsley with other herbs. This combination of parsley, sage, and mint is one we like, but you can substitute other fresh herbs to suit your taste and side dishes.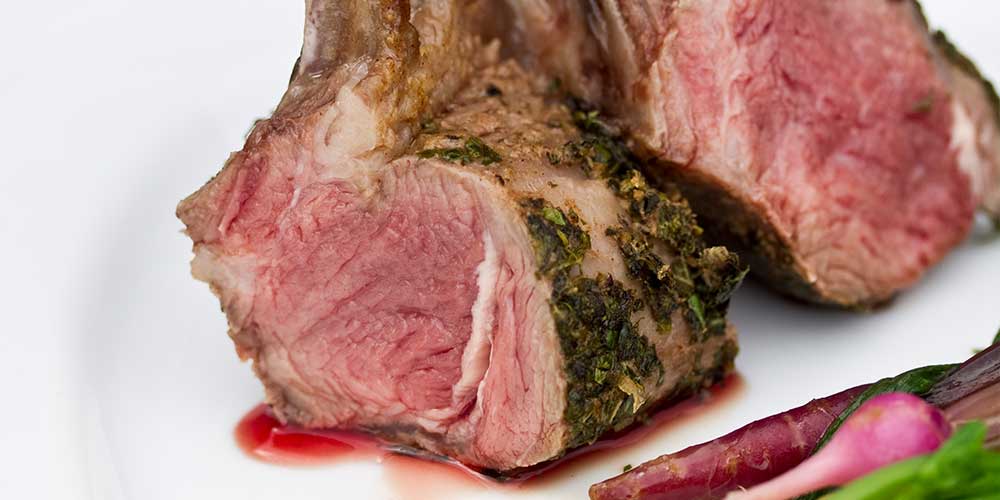 INGREDIENTS
1 tbsp Fresh Parsley, minced
1 tbsp Fresh Sage, minced

1 tbsp of other fresh leafy herbs, minced (for example, we used mint)

Dijon Mustard to coat

Salt & Pepper

2 tbsp Water

2 tbsp Butter
DIRECTIONS
1
Preheat your oven to 400 degrees.
2
Stir the minced herbs together.  Season the rack with salt and pepper.
3
Coat the rack's loin meat with a thin layer of mustard and press the herbs on to it in order to adhere as much as possible.
5
Sear
the loin side to develop a crust, then flip the rack and move the skillet to the oven to roast.
6
Once the lamb rack has reached your desired level of doneness (8-10 minutes for medium rare), remove the skillet from the oven, take out the rack, and let it rest (covered with foil) for five minutes.
7
Slice the rack into two-rib chops, and serve with vegetables of your choice.