It's easy to make tasty refrigerator pickles at home.  Here's a recipe that makes ones with a kick thanks to the inclusion of spicy japones chilies.
You can substitute plain cauliflower for the purple cauliflower, but the pickling liquid won't turn this beautiful color.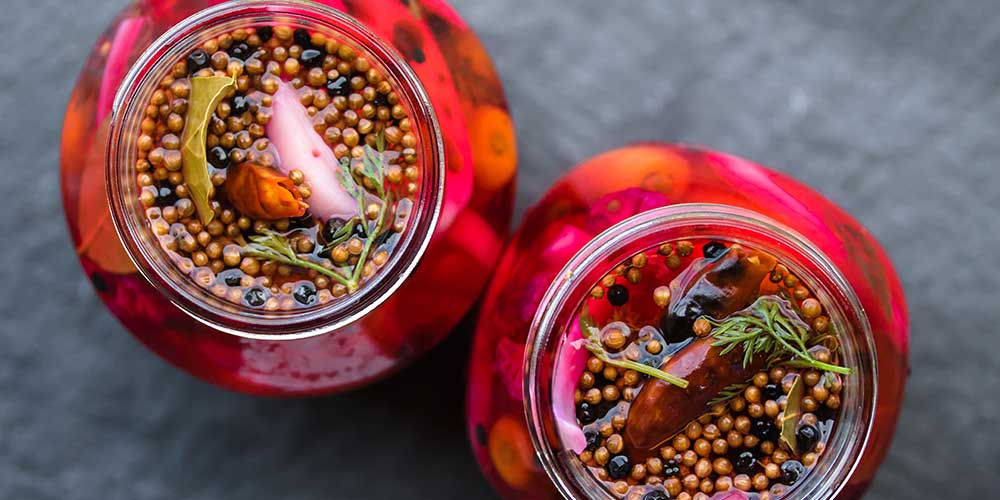 INGREDIENTS
1 small bunch Small Organic Carrots

½ head Purple Cauliflower

1/2lb Lotus Root
DIRECTIONS
1
Toast the Japones chilies in a dry pan.
2
Make the pickling liquid. Combine all the pickling liquid ingredients in a medium saucepot & heat until the sugar dissolves and the vinegar just comes to a boil.
3
Remove the pot from the heat & add the chilies.
4
Peel the lotus root & slice it ¼" thick.
5
Cut the florets off the head of cauliflower, trying to cut them into small, but relatively uniform, portions.
6
Scrub the carrots and cut off any greens. Reserve some of the greens to pack in the jars.
7
Blanch the vegetables:
2 minutes for the carrots
30 seconds for the purple cauliflower
1 minute for the lotus root
8
Shock
the vegetables in ice water.
9
Arrange the vegetables in two large mason/Ball jars in a decorative fashion with some of the carrot greens in each jar.
10
Pour the pickling liquid over them (with the spices), allocating 2 of the chilies in each jar.
11
Let sit until the pickling liquid cools, then serve or store in the refrigerator for later.